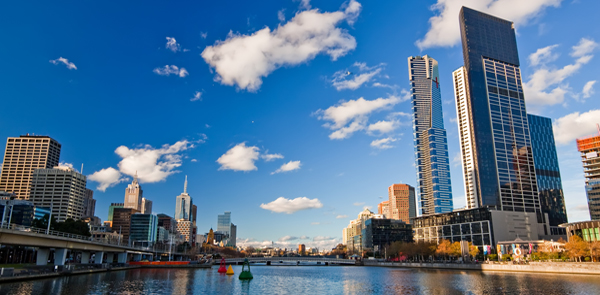 Melbourne Still Lags in Australia's Property Markets
It won't be until 2014 when commercial, industrial and residential real estate markets in most Australian major cities begin to recover, according to a new report from the Australian Property Institute. Melbourne, particularly, still waits for home prices to hit rock bottom.
Listings at brokerages and at auction houses are down as potential sellers hold back placing their properties on market, waiting for a price rebound, according to the Institute's survey called Australian Property Directions.
Justine Jacono, president of the Australian Property Institute, said residential price falls are expected to be mirrored in the commercial and industrial sectors, reports The Telegraph.Com.AU of Sydney.
"Melbourne is yet to reach the bottom of the cycle," Jacono said. " ... In two years time, respondents see residential property as moving further along the upswing with Melbourne lagging behind Sydney and Brisbane,''
But the Real Estate Institute of Victoria (REIV) offered a glimmer of hope for home sellers, arguing the bottom of the cycle has already been reached in Victoria, The Telegraph reported.
"While we will only be certain that the bottom of the current cycle was reached after it has happened, REIV analysis indicates we have been at the bottom of the residential cycle in terms of prices and demand for the entirety of 2012,'' according to REIV spokesman Robert Larocca.
"The key determinant about when we rise from this position will be levels of consumer confidence (and) when that rises on a protracted basis we will expect an upswing in the market,'' Larocca said.
The number of homes being listed remains lower as "real estate agents continue to call for vendors to meet the market if they want to sell," The Telegraph notes.
Nationwide, Sydney residential properties are seen to be on the upswing, while Brisbane has reached the bottom of the market and is set to start ticking upwards again in the next 12 months, according to the Institute's survey
"Commercial, industrial, retail and residential property in Sydney, Brisbane and Melbourne are seen as currently being stalled at or near the bottom of the property cycle but are predicted to advance slowly along the cycle over the next two years,'' Jacono said.
As governments pull back on home-buyer incentives in many markets around the country, survey respondents have given greater weight to the role of bonuses in boosting the housing sector.
"When asked to comment on the importance of government incentives for the residential property development market, a greater percentage of respondents (93 per cent) rated them as moderately to extremely important compared to 86 per cent six months ago,'' Jacono said, according to The Telegraph.