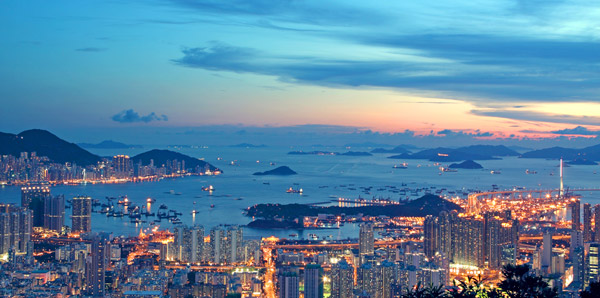 Hong Kong Real Estate Investors Betting Against Bubble Crash
House and apartment prices in Hong Kong have shot up about 20 percent in the first nine months of this year, surpassing the previous peak in 1997 by around 26 percent. But are investors concerned? Many are not, fueling the bubble still more and banking they will escape before it bursts.
That's the conclusion of some global analysts as they speculate on what it will take to turn around the residential price spiral, now as severe as the 1997 bubble implosion.
But Norman Chan, chief executive of the influential Hong Kong Monetary Authority sees a different scenario.
"It is wrong to assume that property prices will continue to rise," Chan recently told the Hong Kong Legislative Council. "I've never seen a cycle where home prices only climbed. The question here is what will prompt the cycle to achieve a directional change."
China Daily reported Chan also told the Legislative Council that "although current average affordability ratio among Hong Kong families is lower than the level back then in 1997, the "extremely low" mortgage rate today that averages 2.3 percent also leaves great margins for further rate hikes in the future".
Chan on Monday also warned the government could consider restrictive measures to rein in speculation of commercial properties, should that sector start to heat up.
He said that although Hong Kong banks are more cautious today in lending money for commercial property trading, if transactions heat up to the point where they could produce risks to the city's banking system, the Hong Kong Monetary Authority would require the banks to sharply restrict commercial loans.
China Daily reports commercial properties in Hong Kong have seen a surge of speculative activities after the government further increased transaction costs on short-term home resales and non-local buyers.
However, in a major twist to the current property market, several major property developers in the city, including Sun Hung Kai Properties, New World Development and Sino Land, have all started selling parking spaces instead of residential homes, as these sales are not curbed by government measures.
Last week, Sun Hung Kai released for sale 665 vacant parking spaces from 10 housing real estates, which were priced from HK$200,000 ($25,805 US) to HK$470,000 ($60,643 US). One Kong dollar equals ($0.1290 US).
Some media reports indicated that a local investor bought 50 parking spaces in Woodland Crest, a Sun Hung Kai's development in Sheung Shui, with a total transaction value exceeding HK$12 million ($1.54 million US).