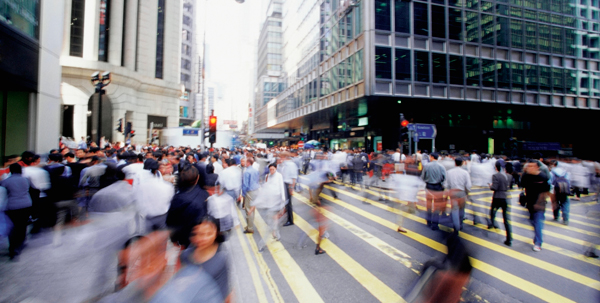 Hong Kong Beats Out Manhattan World's Priciest Retail Market
It's officially called a SAR, which is a special administrative region of the People's Republic of China. But Hong Kong itself marches to its own drummer, especially in the world of high-priced real estate. Today, the region's Causeway Bay area is considered the most expensive retail street in the world.
The area has also just beaten out New York City's Fifth Avenue for the first time in 11 years.
That's the conclusion of New York City-based Cushman & Wakefield after completing its 2012 survey of high-end retail markets.
Highlights in Cushman & Wakefield's latest Main Streets Across the World report showed:
Bloor Street in Toronto remains the 20th most expensive globally.
Global retail rents remained resilient overall, recording a 4.5% average increase for prime locations.
South America showed the strongest rental uplift by region, with prime rents increasing by 11.6%.
"Despite a backdrop of a slower global economy and continued uncertainty - notably surrounding the euro zone - global prime retail markets have proved generally resilient over the year to June, with rental growth driven in particular by a strong performance in Asia and the Americas."
Hong Kong wears that pricey mantle, even though 95 percent of its seven million residents are native Chinese whose incomes rarely permit them to shop among the glitzy shops in the Causeway Bay corridor.
Situated on China's south coast and, enclosed by the Pearl River Delta and South China Sea, Hong Kong's Causeway Bay, driven by a surge in demand and leasing activity, experienced a 34.9% hike in rental values to $2,630 per square foot. Fifth Avenue's average rent stood at $2,500 per square foot.
The biggest climber in Cushman & Wakefield's top 10 was Avenue des Champs-Élysées in Paris at $1,129 per square foot, placing that market in third place on the high-priced list. Ginza Tokyo was fourth at $1,057 sq ft. The rents shown are all in U.S. dollars. One Hong Kong dollar equals $0.1290 US.
The Cushman & Wakefield study found once again that luxury retailing continues to fuel trading and rental growth across prime pitches of the global market.
Luxury retailers are competing for the most coveted shopping destinations, exerting upward pressure on prime rental values.
Despite recent slower sales growth, the luxury sector will remain resilient and continue to play a vital and prominent role in driving overall performance in the world's premier locations, the study states.
Martin Mahmuti, an analyst with Cushman & Wakefield's European Research Group, notes, "Looking ahead, the main drivers behind global growth are not expected to shift significantly - with growing structural demand in Tier 1 locations, market globalization and luxury expansion in key developments."
To which John Strachan, Head of Cushman & Wakefield's Global Retail Services, adds, "There has been the usual jostling for the top positions between Hong Kong and New York but, of course, the real message here is the unfaltering advance of the top global cities, fueled by a shortage of supply and the interest of international brands."
Of the 326 prime locations in 62 countries surveyed for the report, a total of 147 saw rents increasing with just 49 (15%) experiencing rental declines - compared with (19%) in 2011.