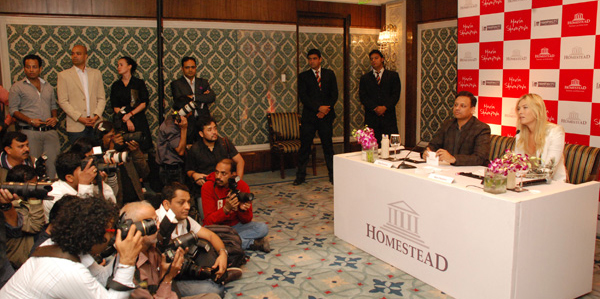 Tennis Star Reels in Millions for Lending Name to New Luxury India Apartment Project
Russian tennis star and model 25-year-old Maria Sharapova, with an estimated net worth earnings of $90 million, is growing her portfolio by lending her name to a planned multi-million-dollar apartment project in Gurgaon, northern India.
According to an announcement by developer London-based Homestead Infrastructure, the company will pay Sharapova what media reports speculate will be "several million" for calling the project Maria Sharapova Tower Gurgaon.
That tower is located in the exclusive Sector 109 of northern India and is scheduled to be completed by July 2014.
After a 10-day vacation in Indonesia, Sharapova stopped in India to promote her new deal with Homestead, a developer who has carved a niche for itself by constructing celebrity themed and branded lifestyle living space.
German racing car star Michael Schumacher, 43, is also financially backing the Sharapova apartment project.
Maria Sharapova Tower Gurgaon, when constructed, will have apartments with four spacious bedrooms, an L-shaped living and dining area, and a utility room. The complex will have imported marble in the living, dining, lobby and passage and lobby areas, and wooden laminated flooring in all the bedrooms. The apartments will open in three sides, will be well ventilated and can contain solar water heaters.
The Sharapova tower not only will have residences to live in, but will also double as a resort with clubs and swimming pools, according to the announcement.
Homestead's other project in India, the Michael Schumacher tower, is located in New Delhi. It will consist of 90 apartments but the tower itself will be the tallest in the immediate area.
Sharapova, who now resides in Bradenton, FL when she is not playing tennis or modeling, has had a stellar career to date. She has also been featured in several national publications including the annual Sports Illustrated Swimsuit edition.
A United States resident since 1994, Sharapova has won 27 World Tennis Association (WTA) singles titles, including four Grand Slam singles titles. She has also won the year-end WTA Tour Championships in 2004.
The Women's Tennis Association has ranked Sharapova World No. 1 in singles on five separate occasions, for a total of 21 weeks. She became the World No. 1 for the first time on Aug. 22, 2005, and regained the ranking for the fifth time on June 11, 2012. She has been in seven Grand Slam finals with a record of 4-3.
Wikipedia
notes Sharapova made her professional debut in 2004 at age 17, when she defeated two-time defending champion and top seed Serena Williams in the 2004 Wimbledon final for her first Grand Slam singles title. She entered the top 10 of the WTA Rankings with the win.
She subsequently won major titles at the 2006 US Open and 2008 Australian Open, before being forced out of the game for 10 months by a recurring shoulder injury, which ultimately required surgery in October 2008.
Sharapova returned to the game in May 2009, returning to the top 10 in March 2011 and capturing her fourth grand slam title at the 2012 French Open. By doing so, it made her the 6th woman in the Open Era to complete the career Grand Slam.
In the same year, she won an Olympic silver medal in the London 2012 Olympics, losing the final to Serena Williams.
In Bradenton, Sharapova works with Nick Bollettieri's Tennis Academy.