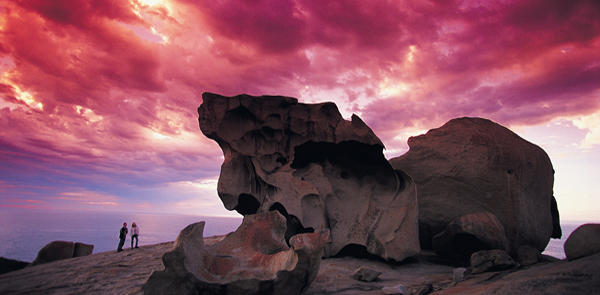 A South Australian Road Trip
Two of Australia's best road trips are in the state of South Australia. So, gas up the rental car, put the top down, and prepare to see South Australia from valley to vineyard.
From the bustling capital city of Adelaide (pop. 1,000,000), you can head north toward the country's best wine region, the Barossa Valley, about 60 miles away. Or, you could head south about an hour-and-a-half to Kangaroo Island, home to a stunning array of wildlife.
Or...you could do both!
Either way, don't sprint out of Adelaide too soon. The city's surrounded by parklands with great hiking, biking, and boating. And the Central Business District is filled with good museums and restaurants, as well as the Central Market, the largest covered market in the Southern Hemisphere. Here, you'll wander among fruits and vegetables, meat and poultry, seafood, gourmet cheeses, bakery products, and treats made by local expatriates from all over the world.
When it's time for your road trip, you might point the car north first, toward the Barossa Valley.
Twenty minutes outside of town, you'll start passing historic wineries. Barossa's viticulture was brought here by German immigrants in the 1840s. Now, there are some 80 wineries here. The region is home to the oldest Shiraz vines in the world (up to 170 years old), as well as labels such as Jacob's Creek. And a local vintner named Penfold's is selling a bottle of wine produced from century-old vines; it's yours if you can pony up $168,000.
Many of the villages through which you'll drive look as if they've been transplanted from Europe, among them Hahndorf, Australia's oldest German village, established in 1839. In restaurants here, specialties of the house will be schnitzel and strudel!
The Barossa Valley has a nice variety of accommodations. One of the best is the Kingsford Homestead, once a dusty sheep station, now a brand-new luxury lodging with seven suites. Jacob's Creek Retreat at Moorooroo Park is a collection of historic stone buildings from the 1840's, now country cottages nestled in tranquil gardens.
Kangaroo Island, accessible by the Cape Jervis ferry, is at the southern end of our road trip.
Here, you'll walk paths with koalas in the trees, and kangaroos and wallabies in the bush. You'll pull into Flinders Chase National Park to see the incredible granite formations, and the colony of 6,000 native New Zealand fur seals (larger than the island's human population of 5,000) sunning themselves on the rocks. At Seal Bay Conservation Park, you can actually walk among a colony of rare Australian sea lions. And Little Sahara is a series of desert-like sand dunes more reminiscent of the Middle East than the western Pacific.
Like Barossa Valley, Kangaroo Island is also home to a burgeoning wine scene. The nutrient-rich soil, sunshine, and moisture from the sea produce wonderful vintages. There are now 11 vineyards on the island, turning out distinctive Cabernet, Shiraz, and Riesling. And they produce spirits here, too; Kangaroo Island Spirits is South Australia's only boutique distillery, and its products are made with local ingredients such as organic honey, wild fennel and juniper.
Kangaroo Island was set up as a bee sanctuary in 1885, and today is home to the only pure strain of Ligurian bees - and honey - left in the world. Clifford's Honey Farm produces more than 22,000 pounds a year, and offers tours, tastings, and treats such as honey biscuits and ice creams.
Pull off the road occasionally to sample local specialties like seafood, artisanal cheeses, marron (a freshwater crayfish), native spices, yogurt, and, perhaps surprisingly, olive oil. And stop at Island Pure Sheep, where you can try the Mediterranean-style cheeses and yogurt produced on the farm.
Perhaps the best thing about South Australia, though, is the fact that the Barossa Valley-Kangaroo Island road trip is just one of many great ones.