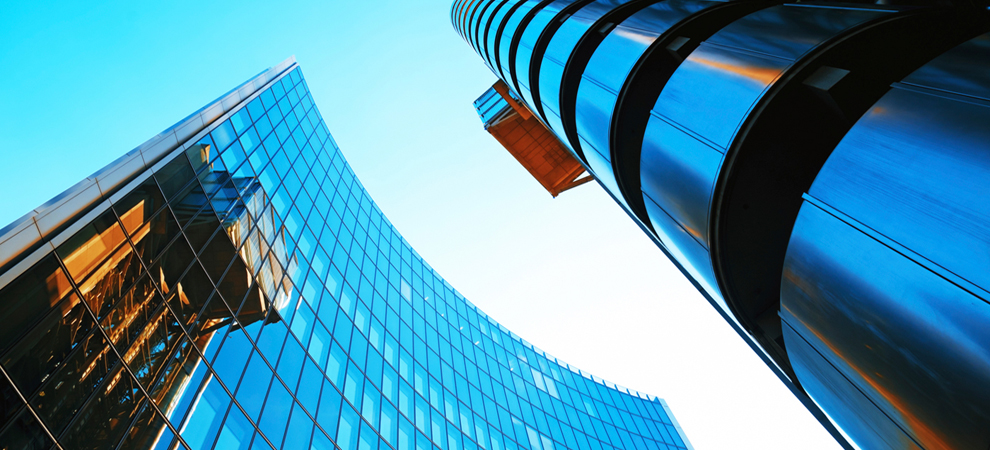 Record Breaking Year for European Distressed Asset Purchases in 2014
According to Cushman & Wakefield, there was a record-setting €80.6 billion ($91 billion) of closed European commercial real estate (CRE) and real estate owned (REO) transactions in 2014 - more than two-and-a-half times the volume recorded in 2013.
With both investors and vendors eager to meet their annual targets, the European CRE loan and REO market was a hive of activity in the final quarter of last year: over €23.9 ($27b) billion of transactions completed during this period.
To put a record-breaking 2014 in perspective, this represented growth of 156% on the volume for 2013 and an increase of over €26 billion ($29b) on the totals for 2012 and 2013 combined.
According to information revealed in the latest European Loan Sales Market Report, an array of geologically named projects from IBRC dominated the start of 2014, while volumes in Q4 2014 were boosted by UK lenders which together accounted for 59% of all sales by face value.
The largest of these deals saw Cerberus acquire the €5.6 billion ($6.3b) Project Aran, an upsized Irish and UK real estate loan portfolio sold by RBS which is looking to accelerate its disposal of its legacy Ulster Bank loan book. A partnership between CarVal Investors and Goldman Sachs also won several processes, together buying around €3 billion $3.3b) of Irish CRE loans from Lloyds Banking Group and IBRC. Although not the largest transaction, Cerberus also bought the €970m Project Mermaid from the Danish 'bad bank' Finansiel Stabilitet, highlighting how activity has spread throughout Europe.
Although it is anticipated that it will be difficult for 2015 to reach the €80 billion ($90b) mark, there have been early signs in the first few weeks of January that investors remain hungry for distressed European assets. Cushman & Wakefield's EMEA Corporate Finance team has already recorded €2.7 ($3b) billion of closed sales with approximately a third attributed to NAMA, affirming its intentions for the year of an accelerated wind-down. With IBRC disposing of almost a quarter of the 2014 total, 2015 will be dependent on the activity of the likes of NAMA and SAREB to feed the demand for European opportunities. €60-€70 billion ($67b to $79b) of closed CRE loan and REO transactions are forecast in Europe for 2015, according to the report.
Investor League Table 2014
Cerberus tops the report's Investor League Table 2014, acquiring over €17 billion ($19b) of European CRE loans and REOs.
As in 2013, Cerberus led the flock of investors chasing European CRE loan and REO opportunities, finishing 2014 with a flourish of activity to gain the top spot. In fact, the US private equity firm closed six deals in the final three months to account for 41% of the volume transacted in Q4 2014 and almost 22% of the annual total. Not too far behind with a further 20% was Lone Star, which dominated the Irish headlines at the start of year with several IBRC purchases and led the league table for the majority of the year.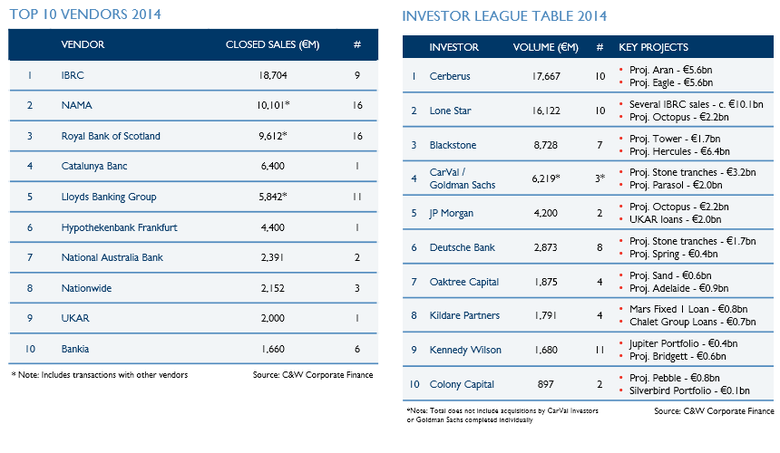 Further highlights from the report:
Driven by investor interest and vendors accelerating deleveraging, 2014 was the year of the 'mega-deal' - 16 transactions in excess of €1 billion were recorded which accounted for 62% of the annual volume;
Spain had a 'Herculean' year while investor interest in the UK and Ireland remained solid as a 'Rock' with the geographical pattern of sales in 2014 continuing in the same vein as previous years;
Asset management agencies were key vendors in 2014, responsible for 41% of closed transactions in 2014 compared to 17% in 2013. IBRC and NAMA alone accounted for 36% of the total closed volume in 2014;
Europe continues to be awash with US capital which was associated with acquiring 77% of all opportunities by face value in 2014, up from 67% in 2013;
A substantial pipeline of €21.7bn ($42.4b) in live sales is currently being tracked with 10 and 11 transaction being marketed in Ireland and Spain respectively. Both countries will remain highly active over the next twelve months driven by a continual recovery of the property market and the economy in general;
With IBRC almost completing its deleveraging process, NAMA and SAREB will have important roles going forward.
Federico Montero, Cushman & Wakefield's Head of Loan Sales of EMEA Corporate Finance said, "All records were broken in 2014. The €80.6 billion ($91b) of loan sales recorded highlights the full extent of the troubled assets European lenders have had to deal with since the crash. It also illustrates the vast amount of US capital still hungry for distressed opportunities in Europe.
"As in previous years, the UK and Ireland took centre stage in 2014 with both markets recording staggering volumes of closed transactions. However, with activity levels from key vendors such as Lloyds and RBS expected to slow in 2015, lenders in southern and eastern Europe may have a gap to bring more product to the market."