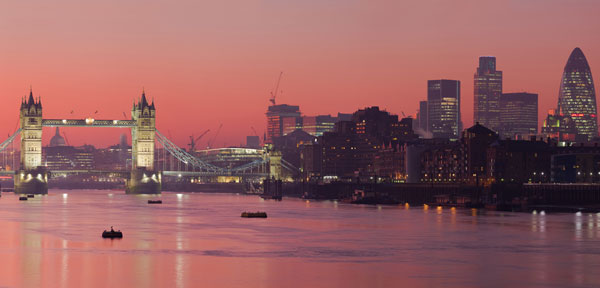 Global Real Estate Investors Pick Safe Havens of U.S., Asia and Western Europe
International real estate investors these days are putting their money where they feel it won't vanish overnight - in the U.S., Asia and western Europe. That's the latest conclusion of Colliers International's in its recent Global Investor Sentiment Survey.
The report notes that investors consistently chase properties in the same, "safe" markets, including London, Paris, Frankfurt, Hamburg, Munich and New York.
"London and New York are the only two markets identified as key investment areas by investors from other regions," report states.
"Investors will continue to target these markets through 2013, while monitoring the effects of the U.S. election result and continuing problems in the Eurozone London, Paris and major cities in Germany are among the favorite sites.
According to the report, "Investors have shown a strong preference for the office sector from a global standpoint. In the U.S. and Latin America, the industrial sector ranked highest, whereas Australia, Canada, and New Zealand saw increasing interest in shopping center investments."
About 500 real estate professionals from the US, Canada, Latin America, Asia Pacific, Europe and the Middle East offered their opinions for the survey.
Highlighting the most noticeable trend this year, Tony Horrell, CEO, U.K. and Ireland, Colliers International,said in the report, "Major investors are becoming more critical when selecting their investment locations.
"This is supported by the overarching themes we found when asking respondents about their investment strategies. They are more likely to look at home locations first, and when they do look at international opportunities, they are far more specific about the individual markets and sectors in which they are interested."
Horrell added, "The survey also found that the availability and price of debt finance will remain an issue in a number of territories, particularly in EMEA, as stringent lending requirements endure and LTVs remain low.
"This is opening the door for new lenders, in the form of insurance companies, and the resurgence in the provision of mezzanine finance."
Investment volumes are expected to grow slowly and steadily in Western markets through 2013, and core investment opportunities will become more difficult to find as investors hone in on just a few key locations.
Asian, EMEA and Latin American investors were the most likely to access funds from outside their regions.
The report notes Asian investors sourced just 40 per cent of funds locally with the United States (20 per cent) and Western Europe (19 per cent) providing significant capital.
In Latin America, the US provides almost a third of all funding with Western Europe providing just under 15 per cent. Canadians are almost self-sufficient with around 78 per cent of investment funded locally.
Though many investors prefer to invest in their local markets, there are those (approximately 25%) that are taking their real estate ventures overseas. Investors who look offshore tend to favor Western Europe. In addition, some Asian investors are likely to explore property opportunities closer to home in Australia and New Zealand.
Wealth preservation and secure income are still a priority for the majority of investors. However, in the next six months, investors in the U.S., Asia and Latin America are the mostly likely to take on more risk, the report finds.
Most Europe, Middle East and Africa (EMEA) markets will continue to struggle with securing debt in 2013, and specialist debt funds pursuing higher returns are expected to see more activity.
Investors in the Asian markets were identified as the most likely to extend debt, while investors in Latin America tended avoid taking on more debt.
Looking to the future, Horrell concludes, "In 2013 we will see more new lenders and mezzanine funds to partially replace the void left by retreating mainstream banks.
"And more generally, 2013 will be a year of continued recovery, with investment volumes showing modest growth as investors accept the new norm and sentiment improves."