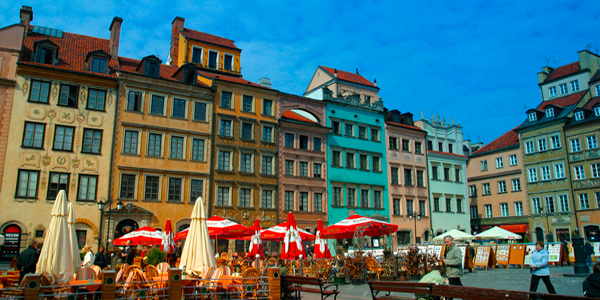 Polish Developers Upgrading 2.75 Billion Square Feet of Older Shopping Center Space
Unable or not willing to compete with newer, glitzier malls, many developers in Poland are reinvigorating and upgrading older shopping centers located in prime foot traffic locations. That's what the biggest real estate players in the world heard at the recent annual MAPIC exhibition and conference in Cannes, France.
Warsaw Business Journal reports that according to a third-quarter 2012 analysis by Jones Lang LaSalle, about one-third of the existing shopping centers in Poland, totaling about 2.5 million square meters (about 2.75 billion square feet) of retail space, are currently being upgraded. (One square meter equals 10.76 square feet.)
By the end of 2014, at least 20 new shopping centers are planned for revitalization, according to Jones Lang LaSalle. Seventy-four centers already have been modernized. These projects include a few Warsaw-based centers like Klif, Blue City, Promenada and Galeria Mokotów.
The one big plus the older centers have over many of the newer malls is visibility and location, according to Katarzyna Zapała, a marketing specialist at Echo Investment based in Kielce, Poland. Zapala told the conference Poland's refurbished shopping centers also need to provide entertainment, as well as goods to the buying public, a feature many U.S. developers learned a decade ago.
She said her company is currently expanding a shopping site in Jelenia Góra where entertainment will be highlighted and publicized. Echo Investment is also considering repeating the process at their Galaxy center in Szczecin.
.
Rafał Grzeszek, deputy head of property management in Poland for Paris-based BNP Paribas Real Estate, agreed with Zapała's assessment.
He repeated the age-old real estate developer's dictum: "Location, location, location." That is where the older centers surpass the newer malls, Grzeszek said.
Dominika Jędrak, director research and consultancy services at Colliers International, agreed that modernization is the current trend in Poland.
Still, developers at this year's MAPIC also stressed there is still a lot of space for new retail projects in Poland, considered by many analysts as an emerging international real estate market, said Tomasz Szypuła, member of the supervisory board at the Ptak shopping center.
Agnieszka Mielcarz, director of the Forum shopping center in Gliwice, agreed Poland was still a developing (retail) market with huge growth potential.
MAPIC provides a unique exhibition area and conference series dedicated to retail real estate. It brings together retail and real estate leaders to explore the most innovative projects, discover new retail properties, forge partnerships, close deals, and stay on top of trends and innovation in the retail real estate industry.