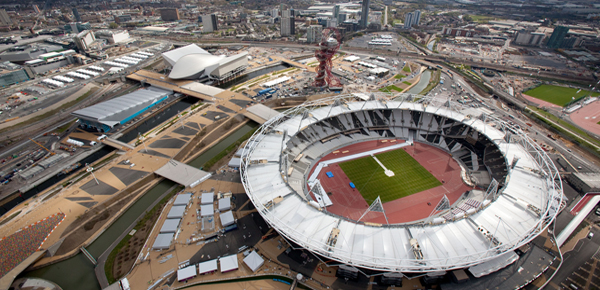 London Summer Olympics to Generate $1.17 Billion for U.K. Economy with Leisure, Travel and Retail the Biggest Winners
The stagnating United Kingdom economy is preparing for a super B-12 booster shot from the 2012 Summer Olympics scheduled from July 27 to Aug. 12 and from the 2012 Summer Paralympics Games from Aug. 29 to Sept. 9. Both events are scheduled in London.
Consumer spending during the seven-week events will hit a record £750 million ($1.17 billion U.S.).
The retail, leisure and travel sectors are expected to be the biggest winners, benefiting from a combined spending injection of £508.4 million ($790 million U.S.) One British pound currently equals $1.55 U.S.
An unprecedented 17,900 new jobs will be created annually from the Olympics throughout the United Kingdom through 2015.
That is the preliminary assessment of Visa Europe and SQW, a 29-year-old division of SQW Group, an international research and economics consulting organization with offices in London and China. SQW prepared the data for Visa Europe which issued the report to mark the 25th anniversary of Visa's global sponsorship of the Olympic Games
Their report anticipates:
Increase in economic output (goods & services) £1.14 billion.
Increase in incomes for British residents £229 million.
Longer term economic impacts until 2015 will show increase in economic output per year of £1.37 billion.
Total stimulus for the economy by 2015 -- £5.1 billion
Percentage of overall expected growth for UK economy -- 3.5%.
Additional incomes to UK residents £296 million.
Additional new jobs created per year to 2015 -- 17,900.
The report: is called Golden Opportunity - London 2012 Olympic and Paralympics Games Expenditure and Economic Impact. The report speculates that during the intense three-week period between the opening and closing ceremonies of the Olympic Games, the economy will receive a £621 million spending boost.
This will be supplemented by a further £129 million spending boost during the Paralympic Games, taking the total spend increase to £750 million over the entire seven weeks, an uplift of 18.5% above what would be expected over the same period had the Games not taken place.
After the Games are finished, the longer term economic uplift is expected to deliver a sustained stimulus worth a total of £5.1 billion to the UK economy by 2015. This represents about 3.5% of the overall expected growth of the national economy over the 2013 - 2015 period.
The report draws on historical Visa cardholder spending data from the Turin 2006 Olympic and Paralympic Winter Games, Beijing 2008 Olympic and Paralympic Games, Vancouver 2010 Olympic and Paralympic Winter Games, 2010 FIFA World Cup as well as a detailed review of other existing economic data from previous Olympic and Paralympic Games.
The report is solely focused on expected spending levels among both overseas visitors and UK residents. It does not quantify additional benefits to the economy such as stimulus to the construction sector and long-term benefits of improved infrastructure.
"Therefore, it provides unique insight into how consumer spending alone will impact the economy," the report states..
As the report is based on real spending in countries that have hosted past Olympic and Paralympic Games or other major sporting events, and Visa accounts for more than £1 in every £4 spent in the UK, "it offers unparalleled insight into how the UK population and visitors will spend during the Games period in 2012," according to Visa.
Spending by Foreign Visitors
The report acknowledges that positive impact to the economy will be largely generated by a major influx of foreign visitors to the UK.
Over the seven-week Olympic Games period international visitors are expected to spend a total of £709 million. This significant international spending boost is higher than previous Games.
International expenditure at Sydney 2000 and Athens 2004 was approximately half this figure. At Beijing 2008 international expenditure was estimated at $US150 million (£93 million) for an equivalent three week period.
The report speculates that the higher level of spending expected at London 2012 can be attributed to the advantageous position of London with respect to Europe and other key international markets (resulting in increased visitor numbers) and the higher costs associated with visiting London.
Domestically, consumer spending is expected to increase by £41 million over the full Olympic and Paralympic Games period.
"This is a first for a host market as a domestic spending slump usually takes place during Games time," the report notes..
The report attributes this to 'spending switching', as British residents switch from traditional patterns of summer spending and get into the Olympic spirit, stocking up on supermarket supplies and watching The Games at home.
This feel-good spending is in line with patterns of UK domestic expenditure witnessed during previous Olympic Games and the 2010 FIFA World Cup™.
Besides the retail, leisure and travel sectors generating the most dollars (£508.4 million; $790 million U.S.), other sectors of the economy are also expected to do well. They include:
Supermarkets are set to see a £79.9 million boost in spending
High street retailers, such as department and clothing stores, will benefit from an extra £184.7 million
The entertainment and food and drink industry will benefit from an extra £81.5 million
The hotel sector will benefit from a £122.6 million spending uplift
Airlines, car hire and other travel sectors will see a £39.7 million increase
The knock-on effect of this increased consumer spending translates into widespread economic impacts across the board.
A net £1.14 billion increase of goods and services produced (economic output) across all sectors is expected in order to meet demand, resulting in a potential £229 million net increase for UK resident's incomes over the seven week period.
This will be generated from higher wages (overtime and increased Games time rates); additional rent for those who are renting their homes out to visitors or charging higher Games time rental rates; and profits across all sectors.
Longer term, this Olympic-sized spending legacy is expected to increase economic output by £1.37 billion per year to 2015 - a total £5.1 billion stimulus for the UK economy over the four years.
Additional incomes to UK residents will be generated worth £296 million per year and an average of 17,900 jobs per annum will be sustained across the UK economy.
Marc O'Brien, Managing Director, Visa UK, notes that much like the World Cup, British consumers are expected to boost supermarket sales by £80 million as Britain lives up to its reputation as a nation of sport lovers. This means, the report states, that for the first time, domestic spending is forecast to grow during a Games -- previously unheard of for a host market.
"What's so encouraging for the wider economy is the ripple effect this will cause: economic output will increase and the benefits will be felt in people's pockets as incomes increase," adds O'Brien. "This immediate positive economic boost will translate into sustained economic stimulus and job creation, impacts which will be felt long after the Games have finished."
The Mayor of London, Boris Johnson, credits London's hosting of the Games "will transform the wider job prospects and economic future for Londoners." He says, "This is already happening, and we can and must sustain that effect for years to come."
Visa Europe is owned and operated by more than 4,000 European member banks and was incorporated in July 2004. In October 2007, Visa Europe became independent of the new global Visa Inc., with an exclusive, irrevocable and perpetual license in Europe.