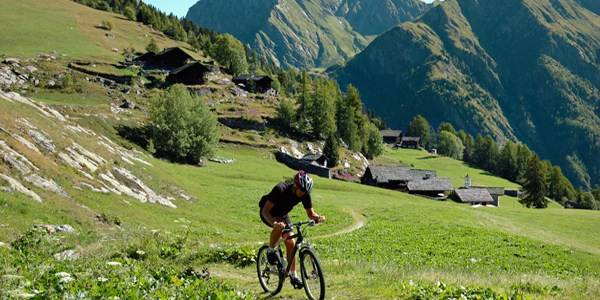 Italy by Bike
These days, it's possible to see the classic Italy - of olive groves and vineyards, red-tiled roofs clustered in precariously-perched hillside villages, bustling piazzas, Impressionist colors, and, of course, Italian wines and food - in an up-close-and-personal way that most visitors miss. Because you can see this Italy by bicycle.
You can actually cycle across the "boot" of Italy, from coast to coast, in the company of guides who know every inch of these lands. And while you do it, you'll be passing through four of Italy's most beautiful regions: Le Marche, Emilia-Romagna, Umbria, and Tuscany. A company called Ciclismo Classico can take you into the sweet spots most tourists fly by in cars or buses or trains. And during these eleven days, you'll learn more about the essential Italy than any guidebook could ever teach you.
The journey begins on the shores of the Adriatic, then winds through the hilly country so beloved by the painter Raphael, with each turn of the road revealing a distant mountain or a village that appears to be from one of his paintings.
Impossibly-beautiful pictures flow into each other like the colors of a kaleidoscope as you turn it. The town of Urbino, a jumble of medieval houses and spires and alleys piled onto a hilltop. The Le Marche region, characterized by somewhat-wild-looking headlands and forests, interspersed with patches of pristine farmland. An evening spent at an isolated guesthouse in verdant countryside, with a spa to work out the kinks.
The Grotte di Frasassi is one of the largest caves in Europe, its dark passageways adorned with other-worldly rock formations. Afterward, the tour takes you through the beautiful countryside of Umbria, and the town of Gubbio, perched on a mountainside like a medieval mirage.
This being Italy, the ruins of ancient Roman civilization are everywhere. On the morning of the fifth day, you'll pass a Roman amphitheater as you cycle down from Gubbio through hills and meadows. The town of Assisi, home of St. Francis, seems to still be stuck - delightfully so - in the Middle Ages, and a walk though its narrow streets will put you in a virtual time-warp.
In the middle of the trip, there's a free day, where you can choose to take a loop ride, or, if certain parts of your body are protesting another day in the saddle, you can roam the streets of Assisi, and enjoy a tasting at a local winery.
In the village of Bevagna, which seems to have been mistakenly dropped into the Twenty-First Century, there's a shop where paper is made the same way it was a thousand years ago. And the Umbrian countryside is everything you'd expect - a non-stop parade of color-splashed vineyards, and fields filled with sunflower and wheat.
The town of Orvieto is known for its cathedral, its white wine, its ceramic shops, and its underground ruins, the remnants of the Etruscan civilization. And dinner here may be the most memorable of the trip; it's a wonderful repast served up by the family that owns a popular local bakery.
The finale of this trip is fitting - a downhill ride toward the sparkling Mediterranean, as you get the first whiff of sea air, and then through a forest and into the village of Porto Ercole.
And then home...with a memory-bank filled with intensely personal moments and places and faces.
It's the essential Italy. From coast to coast. By peddle-power.