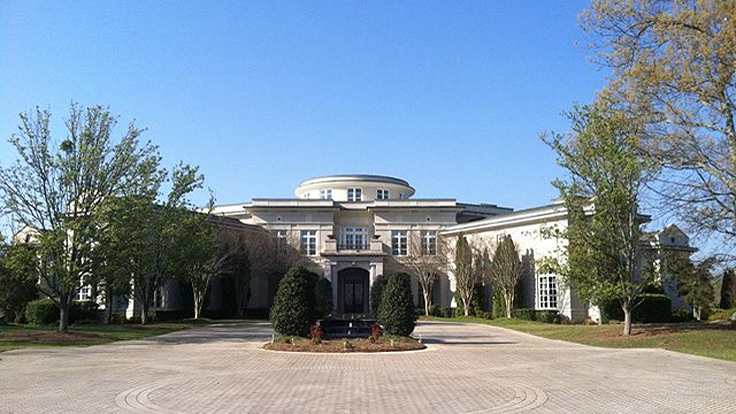 Holyfield Mansion Fails to Sell at Auction, Back on Market
The legendary Evander Holyfield mansion in Fayetteville, Georgia is back on the market for $6.875 million, after failing to sell at auction.
The opulent 44,000-square-foot mansion was purchased by JPMorgan Chase last year for $7.5 million, after Mr. Holyfield defaulted on his debt, estimated to be more than $14 million, according to
Redfin
.
The pre-auction asking price was $7.89 million. Last month's auction garnered the high bid of $6.98 million, failing to reach an undisclosed minimum set up by the bank.
It seems the bank is now willing to sell for less since the new asking price is more than a million dollars less than before the auction.
Sitting on 105 acres, the sprawling mansion is a favorite for Georgia's film industry and is known as the largest single family home in Georgia,
according to the listing
.
The estate features 12 bedrooms, 21 bathrooms, a dining room to seat approximately 100 guests and one of the largest private pools in the U.S., with more than 350,00 gallons of water. The property includes a bowling alley, boxing ring, a 4,000-square-foot second home and a seven-stall barn.
Mr. Holyfield, the former five-time heavyweight boxing champion, isn't the only sports star whose home is up for auction. Basketball legend
Michael Jordan is searching for the highest bidder
for his 56,000-square-foot compound in Chicago. The auction is now set for Dec. 16, 2013, reportedly with stronger than anticipated interest, Redfin reports.