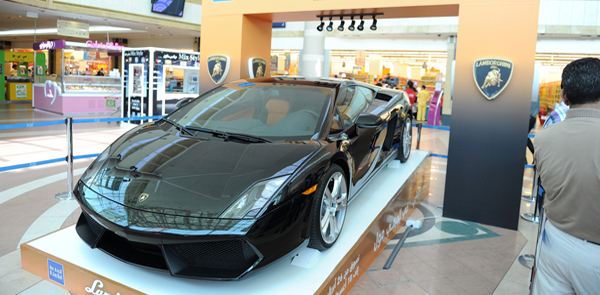 Abu Dhabi Mall Developer Gives Away New Lamborghini Gallardo to Local Shopper
Soopy Abdulla, the lucky winner of the Al Jimi Mall Shop & Win promotion was officially awarded his prize today at a special media event which was held at the mall.
Mr. Abdulla was very excited as he was handed over the keys to the legendary Lamborghini Gallardo LP550-2 by Mohammed Al Zaabi Head of Property and Facilities Management at Aldar Properties.
"I received a call on Saturday night telling me that I'd won a Lamborghini Gallardoi from Al Jimi Mall, at first I couldn't believe it!" said Mr. Abdulla. "This was really great news the night before Eid, and I immediately shared it with all my family back home in India."
"Congratulations to Mr. Abdullah for winning this fantastic prize!" said Mohammed Al Zaabi. "We're very pleased with the success of the Al Jimi Mall Shop & Win promotion, which saw a great level of public participation and engagement, and a great closing on the last day of the holy month of Ramadan and the eve of Eid."
This is the first time a Lamborghini Gallardo is offered as a prize in a similar promotion, which was launched on 26 April and lasted almost four months. More than 260,000 coupons were entered into the raffle draw, equivalent to more than 65 million dirhams spent at the mall during the promotion period.
Al Jimi Mall is among the busiest commercial destinations in Al Ain, with an annual footfall of 9 million visitors.