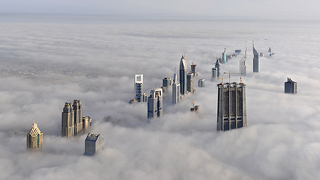 Party Over For Now in Dubai, Global Analysts Agree
(DUBAI, UAE) -- Dubai World's $80 billion in debt announced Wednesday has gotten the attention of world financial markets but hasn't shaken the global real estate world.
A clearer picture of the United Arab Emirates company is expected to surface next week at stock exchanges around the globe.
For now, however, the company's efforts to suspend payments on all or part of it $59 billion debt load currently maturing, isn't being compared to the financial fallout this year in the United States.
Please see related
Real Estate Channel
article:
Dubai Money Crunch Surfaces as Debts Put on Hold
, Nov. 25, 2009
"It looks like the party is over in Dubai for now," Jack Bouroudjian, CEO of Chicago-based Index Futures Group, tells
CNBC
. "We have to be concerned that we're probably going to see some weakness as we start to see that trade unwind."
Jeffrey Saut, chief investment strategist at Raymond James, sees it another way.
"I don't think it's devastating at all," Saut tells The
New York Times
. "Nobody knows the collateral damage, but it is clear that our banks have exposure to European banks."
Kevin Grice, senior international economist at Capital Economics in London, says "the uncertainty in Dubai does not suggest a coming collapse of the global real estate market.
"Dubai is really a symptom, a legacy, from the previous boom, rather than symptomatic of a start of a whole new set of issues that are going to create a systematic crisis in emerging markets."
Grice adds, "Markets (always) assume the worst-case scenario."
The Times itself reports, "Dubai's move (to suspend debt payments) is the global high-finance equivalent of a homeowner asking the bank to allow six months of skipped mortgage payments because of a shortage of cash.
Dubai's announcement that it is asking its creditors to allow the payment suspension "sowed fear of a contagion of instability that could roil markets that are only recovering from the near cataclysm of the last year," The Times says.
Emil Wolter, a Hong Kong-based strategist at the Royal Bank of Scotland, tells The Times, the Dubai debt decision "has sent shockwaves throughout the markets, even though the problems in Dubai have been known about for two years.
"But it is not the trigger for a brand-new crisis...The magnitude of the situation is dramatic for Dubai. But Dubai is not America. And a property crisis in Dubai will not cause the same global crisis as a property crisis in the (United) States."
Tim Seymour of New York City-based Seygem Asset Management also tells CNBC, "It doesn't mean that suddenly we have to reassess the credit quality of the world. It has been a rough week. It may get a little rougher."
Most analysts are waiting and watching for Abu Dhabi to rush to the aid of its sister UAE country.
"This changes the animal spirits rather dramatically," comments Dennis Gartman, editor of the Gartman Letter which analyzes trends in commodities and other markets.
"The fact that Abu Dhabi has not come immediately to the aid of its sister Emirate Dubai raises concern...raises confusion...and as I like to say, confusion breeds contempt."
Mohamed El-Erian, CEO of PIMCO (Pacific Investment Management Co. of Newport Beach, CA), notes, "This is a good reminder that people have to be careful that it's not yet the calm. We still have bits of last year's storm operating.
"This is a catalyst for a repricing of markets across the board, for markets that have gone too far on pure liquidity. There will be opportunities created because markets tend to overshoot on the way up and they overshoot on the way down."
Also in Hong Kong, Paul Schulte, head of multi-strategy research at Nomura, notes Dubai was "a carbon copy of Thailand's disastrous foray as an 'international financial center' in the 1990s. Happily, the UAE has oil. Thailand did not."
Saud Masud, head of research at UBS Dubai, says local Dubai investors hold two-thirds of Dubai World's total $80 billion debt load.
He says "negotiators will feel pressure to reach some kind of deal to present to the markets before trading in the region resumes next week after the Eid holiday."
---