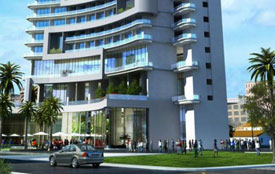 Versace-Designed Condo is Thrilla in Manila
Asian condominium developers constantly try to outdo each other's promotional efforts by announcing celebrity-designed properties.
Hong Kong and Singapore have led the pack in pitching million-dollar residences designed by name architects or even show business personalities.
Now Manila will be the first to boast a condo branded by the Italian fashion label Versace.
The 340-unit, $68 million Milano will launch in early 2011, though it won't be completed until 2015. Prices for the units will range from a few hundred thousand dollars to more than $1 million, The
Wall Street Journal
reports.
In Asia's two wealthiest cities, designer condos have become commonplace. For instance, the iliv @T Grange, which opened this year in Singapore, boasts design by "yoo inspired by Starck," an interior-design firm established by French designer Philippe Starck.
At The Westminster Terrace, a new condo in Hong Kong, interiors feature designs by Singapore-based Japanese architect Koichiro Ikebuchi and London designer and television personality Tara Bernerd.
Now one developer in the Philippines is hoping for a winner in Manila with the Versace-branded condo.
The Milano Residence, located in Manila's Century City, is the first in Asia designed and branded by Versace Home.
The property will feature Versace furnishings in the lobby and pool area. Versace Home will also provide interior-design suggestions for the 340 units, some of which boast private, indoor wading pools.
"It remains to be seen whether the Versace name will help the project become a success," the WSJ reports.
Manila's market for high-end real estate lags behind those in some other Asian cities.
But according to the WSJ, the country has enjoyed something of an economic resurgence of late, and some upscale retailers that are already widespread in other parts of Asia are seizing on the momentum in Manila.
The last 12 months have brought a series of store openings from luxury brands such as Hermès and Forever 21, as well as a new Maserati dealership in Makati, Manila's central business district.
Research sources in the Philippines say that county's economy slowed in the third quarter, but officials still say growth will surpass the government's target of 5% to 6%.
Leo Venezuela of brokerage and research firm CLSA Philippines tells the WSJ demand for luxury property there is particularly high right now because many wealthier Filipinos, who got burned in the global financial crisis, are looking for ways to diversify their financial holdings into assets such as real estate.
Filipino developer Robbie Antonio of Century Properties, who is spearheading the Versace Homes condo project, says he expects 80% of buyers will be local, with the rest of demand coming from foreigners who have ties to the Philippines, or foreign investors.
"In any developing country, you always have a small percentage of people who demand luxury," he says.
---