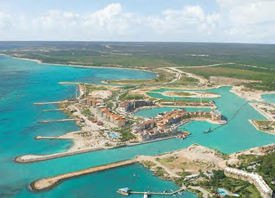 Tennis Star Rafael Nadal Buys Multi-Million-Dollar Home in Dominican Republic
(MAJORCA, SPAIN) -- Who says tennis-playing doesn't pay off? Just ask Rafael Nadal, ranked as the world's top male tennis player.
The 23-year-old, left-handed playing Nadal just closed on the purchase of a multi-million-dollar waterfront residence in the planned $180 million residential complex of Playa Nueva Romana in the Dominican Republic.
The price of Nadal's home was not disclosed in a prepared statement from Pinero Group, the community's developer. The six-foot-one Nadal was born in Manacor, Mallorca, Spain where he currently lives.
At completion, the community, located in one of the most exclusive areas of the Caribbean, will have 1,200 luxury homes, a marina, a five-star hotel, and an 18-hole golf course.
This development covers an area of 620 acres of coconut groves, just 45 minutes from Santo Domingo's international airport.
The project is part of the Pinero Group's expansion strategy within the real estate sector, based on the potential for development of tourist residential complexes.
Located next to the hotels that the Bahia Principe Clubs & Resorts chain has in the Mexican Caribbean, the Dominican Republic and Jamaica, it offers residents a chance to enjoy all the services of the hotel complex, according to the Pineor Group statement.
This new project is backed by one of the most important Spanish companies in the industry at the international level, the Pinero Group, with more than 35 years' experience in the tourism market.
Soltour, whose main business centers on the development and sale of tourist packages to various vacation destinations, is recognized as one of the most successful tour operators in Spain, Portugal and Russia.
Bahia Principe Clubs & Resorts' all-inclusive five-star hotels are located in recognized vacation destinations such as Mayan Riviera, Dominican Republic, Jamaica and Tenerife.
---