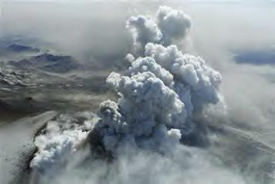 VOLCANO UPDATE No. 2: Brits Expect to Fly Again Tomorrow but Other European Airports Will be Down Until Thursday
Air traffic in England, Scotland and Ireland is expected to resume tomorrow but passengers at other European terminals may have to wait until Thursday, according to updates from global sources on the continuing five-day volcanic cloud spewing from Iceland.
Please see related Real Estate Channel postings:
Aviation industry sources are calling the ash-falling phenomenon unprecedented in modern air traffic annals.
Airline executives in the U.S. and Europe have been widely quoted as saying their companies are losing $200 million a day because of the halt to normal traffic operations.
If that figure is accurate, several new airline mergers will probably be created this year, Wall Street watchers expect. They predict the airline business in the U.S. at least will eventually be controlled by two or three super-sized aviation companies because of continuing high operating costs.
In a prepared statement, United Kingdom air traffic controllers say the volcanic eruption in southern Iceland April 15 has subsided and is not emitting ash to altitudes that would affect Britain, National Air Traffic Services (NATS), which controls UK airspace.
Reuters reports that air space in Scotland and northern England will open first and restrictions in the rest of England and Wales may be lifted later on Tuesday.
"Assuming there are no further significant ash emissions we are now looking at a continuously improving situation," according to the statement from the national air traffic control body.
"This is a dynamic and changing situation and is therefore difficult to forecast beyond 0700 (BST) local," NATS says. "It is now for airports and airlines to decide how best to utilize this opportunity."
NATS said it would issue a further update at 2000 GMT on Monday. British airspace was closed last Thursday (April 15) because of fears the volcanic ash could cause planes' engines to fail.
Millions of passengers have been stranded or had their travel disrupted across northern Europe.
In Brussels, meanwhile, the intergovernmental Eurocontrol expects most European air traffic to return to normal Thursday, after a week of cancellations and disruption due to the ash cloud from an Icelandic volcano.
"If things continue to look like (they are) now and the volcano will not spread ashes to Europe, we're probably back to normal operations by Thursday," said Bo Redeborn, director of Eurocontrol, which coordinates air traffic control across Europe.
"If 30 percent of flights were operated today, maybe we can expect another 10 to 15 percent to come back during tomorrow, and maybe another 10-15 percent the day after," he said.
Redeborn made his prediction after European Union transport ministers agreed to ease air space restrictions which have hit airlines and their passengers since last Thursday (April 15), according to The Economic Times of Mumbai.
Redeborn said there would still be a no-fly zone, where the volcanic cloud is deemed to be at dangerous concentrations for jet engines.
The Volcanic Ash Advisory Center will issue maps every six hours showing where the no-fly zones are, as the ash cloud moves around.
If a high concentration is found above an airport then it must be closed and no air traffic allowed through the area, the Eurocontrol official said.
Eurocontrol, the European organization for the safety of air navigation, is made up of 38 nations across the continent.
---