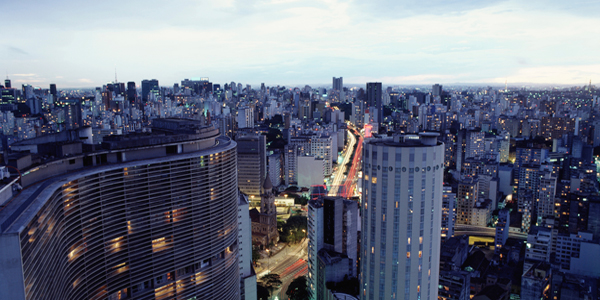 Hines Fund Closes Multi-Million-Dollar Deal for Ownership Slice in Sao Paulo World Trade Center Complex
TFI -Hines Brazil Income Real Estate Fund announced it has closed its first seed acquisition by investing in the World Trade Center complex in Sao Paulo, Brazil. Hines did not disclose its investment total in the mixed-use property but analysts familiar with the project speculate it is a multi-million-dollar transaction.
The investment represents the first closing of the Fund. The announcement was made by The First Investor (TFI), the investment banking division of Barwa Bank Group.
Barwa Bank is also a cornerstone investor in the Fund, together with Houston, TX-based Hines International Real Estate Holdings.
Located in the heart of Sao Paulo, the World Trade Centre is made up of office, retail, and hospitality components, along with the largest convention center in South America - all situated in a premier business location.
Launched in March 2012, the TFI -Hines Brazil Income Real Estate Fund is the first Shariah compliant closed-end income generating fund in Brazil. The Fund has a target size of $500 million and is expected to achieve a net leveraged internal rate of return (IRR) of 10.5% to 12.5% for investors, according to the fund's news release.
The fund plans to distribute an average annualized yield of 8% (quarterly distribution) on the invested capital over the life of the fund.
Mohammed Al Saad, Vice Chairman of Barwa Bank Group, is confident the fund's investment will pay off for shareholders.
"The World Trade Center complex, Sao Paulo, possesses an extremely diversified and high-quality revenue stream which has huge upside potential due to the synergies among the different business components of the complex," Al Saad says. The asset will provide an attractive, long term income stream to investors."
He adds the fund has been structured to maximize returns to investors.
"This represents the second collaboration between TFI and Hines," Al Saad notes. "We are happy to give investors the opportunity to invest in a Shariah compliant manner in Brazilian real estate sector."
Al Saad says that "with TFI 's investment expertise and Hines knowledge of Brazilian real estate market, investors will be very satisfied with the expected results."
Hines boasts a 14 year track record in Brazil, having set up its office in São Paulo in 1998. Since then, Hines has developed or acquired over 17 million square feet of property in cities in Brazil with an additional six million square feet in design or under construction.
Also high on the fund is David Clarke, Chief Executive Officer of TFI.
"With Brazil set to host the 2014 Football World Cup and 2016 Olympics, the timing of this launch could not be more compelling," Clarke points out.. "These events will further enhance the economics of the country and will help the Fund to source even more attractive investment opportunities."