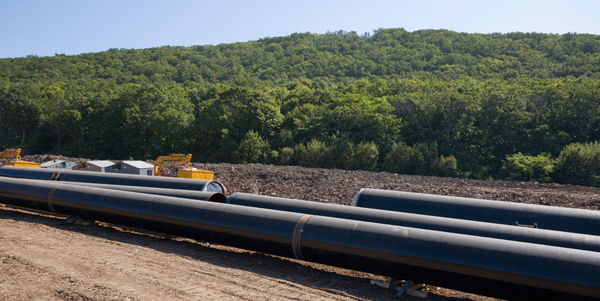 New $1.4 Billion Gas Pipeline in Mexico Will Be Biggest Construction Project in Decades
In one of the biggest industrial real estate ventures on the North American continent in decades, Calgary, Alberta-based TransCanada Corp. plans to begin a series of natural gas pipeline projects in Mexico in early 2013. The estimated total development cost is $1.4 billion.
One of the pipelines is expected to be located on Mexico real estate that runs from El Encino to Topolobampo and will intersect with a second site that will run from El Oro to Mazatlan.
The 530-kilometer (329.32 miles) pipeline that will run from El Encino to Topolobampo will have a capacity of moving 670 million cubic feet per day of natural gas, while the El Oro to Mazatlan pipeline will reportedly have a capacity of 202 million cubic feet each day. (One kilometer equals 0.62 miles or a little better than half a mile.)
TransCanada's news release stated the pipelines are both supported by a 25-year natural gas transportation service contract with CFE.
TransCanada made the announcements after receiving permission to build, own and operate the pipelines from the Comision Federal de Electricidad, or CFE, Mexico's federal power company.
The new pipelines in Mexico are expected to be operational by the fourth quarter of 2016 and will help to complete the corporation's already large holdings, which tap into virtually all of North America's major gas suppliers. This includes more than 24,000 kilometers of natural gas pipelines in Alberta and more than 3,500 kilometers of crude oil in the Keystone Pipeline.
The Gulf Coast pipeline was initially part of TransCanada's $7.6-billion Keystone XL proposal, which would have sent Alberta crude to the Gulf via six U.S. states but has been held up by political and environmental wrangling in the United States
"Mexico's government is engaged in a comprehensive plan to expand the nation's electrical grid and generating capacity, and much of that generation will be natural gas fired," TransCanada President and CEO Russ Girling told the Canadian Press. "This award is another example of TransCanada's commitment to help develop Mexico's energy infrastructure in a sustainable and cost-efficient manner."
TransCanada also built, owns and operates the Guadalajara and Tamazunchale natural gas pipelines in central Mexico and said it is expected to break ground soon on an extension of the Tamazunchale pipeline.
"We are pleased to be working with the government of Mexico on new natural gas infrastructure that will bring its cleaner-burning natural gas to businesses and residents," Girling said in his company's statement.
TransCanada operates a network of natural gas pipelines that extends more than 68,500 kilometers and taps into virtually all major gas supply basins in North America. It is also developing one of North America's largest oil delivery systems.
The company began work this summer on a $2.3-billion crude pipeline connecting an oil storage hub at Cushing, OK to Texas refineries. It's expected to start up in mid to late 2013.