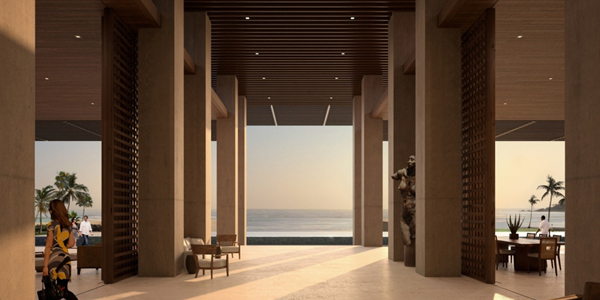 Cabo San Lucas to get New JW Marriott
Cabo San Lucas, Mexico's world renowned luxury golf and resort destination, is getting its first JW Marriott.
Mexican developer Grupo Diestra and Marriott International (NYSE:MAR) recently confirmed the deal when the partnership announced they plan to open the 300-room luxury hotel in 2015. The new property will be operated by Marriott under an agreement with Operadora Punta Peninsula, S.A. de C.V.
Located within the Puerto Los Cabos master-planned development, the JW Marriott will cover approximately 14 acres overlooking the Sea of Cortez and offer 820 feet of beach front just seven miles from Los Cabos International Airport.
The JW Marriott will be part of the 2,000-acre master-planned community of Puerto Los Cabos, just three miles northeast of the quaint town of San Jose del Cabo, founded in 1730. Puerto Los Cabos comprises a number of private residences, a marina, one 18-hole golf courses designed by Greg Norman and Jack Nicklaus, restaurants and retail space.
"We are thrilled to be bringing the luxurious JW Marriott brand to Los Cabos," said Roberto Diaz, Director of Development and Construction, Grupo Diestra. "The site of this hotel is absolutely beautiful, with an extensive beach and access to the many facilities of Puerto Los Cabos."
The JW Marriott Los Cabos will be the fourth JW Marriott Hotel in Mexico. The others: JW Marriott Mexico City, located in the charming Polanco neighborhood, in the heart of Mexico City; The JW Marriott Cancun Resort & Spa; and the stunning JW Marriott Mexico City Santa Fe.
"We are fortunate to have great partners in Mexico, who we continue to grow many successful hotels with in the market" says Laurent de Kousemaeker, chief development officer for Marriott International, Inc., in the Caribbean & Latin America "Los Cabos is a fabulous luxury resort destination and Puerto Los Cabos an ideal location for our new flagship JW Marriott resort."
In addition to 300 guest rooms and suites, the hotel will feature a three-meal-a-day restaurant, a specialty restaurant, snack bar and grill and a pool bar. The resort will also have 1,220 square meters (13,131 square feet) of meeting space, including a divisible main ballroom, breakout rooms and a boardroom. Recreational facilities include a swimming pool, spa, Jacuzzi, tennis courts and a fitness center. Other amenities will include a kids/teen club and a business center.
Architects for the project are world-renowned Seattle-based Olson Kundig and noted local architects Idea Asociados de Mexico.
"Each JW Marriott delivers a warm, authentic, relaxed and elegant environment that is unique to the luxury segment," said Mitzi Gaskins, vice president, JW Marriott brand management, Marriott International. "The JW brand continues to grow and we are excited to add such an impressive resort to our global portfolio. We are confident it will become a landmark resort in Los Cabos, offering exceptional luxury and service in one of Mexico's premier beach destinations."
Currently, there are 52 JW Marriott hotels in 21 countries; by 2014 the portfolio will encompass 77 properties in 28 countries.