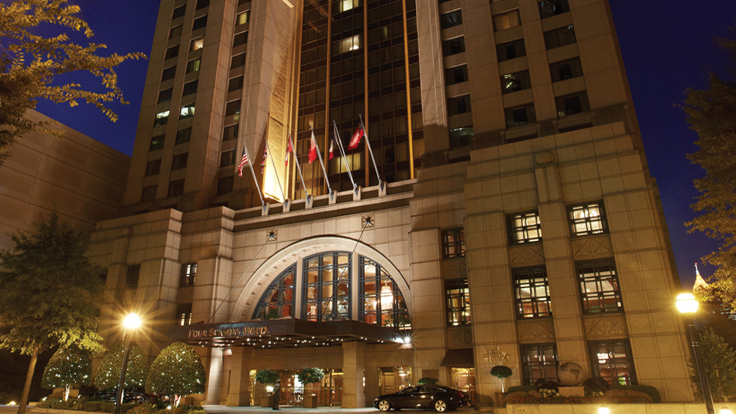 Bill Gates Ups Investment in Four Seasons Hotels
Cascade Investment, the private equity firm of Microsoft founder Bill Gates, has purchased Four Seasons Hotel Atlanta from Host Hotels & Resorts.
This is the second acquisition of a Four Seasons property in recent weeks, the company announced. The purchase cost for the 244-unit hotel was not disclosed.
"Four Seasons Hotel Atlanta is a spectacular landmark property hotel in one of the strongest growth markets in the U.S.," Michael Larson, chief investment officer of Cascade Investment, said in the announcement.
The 54-story Four Seasons Hotel Atlanta opened in 1997 and features an atrium lobby, European-style furnishings and 99,000 square feet of office space. The hotel includes a 7,790-square-foot private spa and fitness center and two restaurants.
Toronto-based Four Seasons Hotels and Resorts, which is jointly owned by long-term shareholders Cascade Investment, Kingdom Holding Company and Triples Holdings, will continue to manage the Four Seasons Hotel Atlanta.
Saudi Billionaire Prince Alwaleed Bin Talal and Mr. Gates purchased a 95 percent stake in the Four Seasons chain in 2007 in a deal valued at $3.8 billion, according to
Bloomberg
.
Hotel chains in the U.S. are enjoying increased demand in the lodging industry. Hilton Worldwide Holdings Inc., owned by Blackstone Group LP, filed to raise $1.25 billion in an initial public offering this month,
Bloomberg
reports.
Four Seasons has 92 properties in 38 countries, with more than 60 projects under development, according to the company.
Mr. Gates is showing interest in international property as well. Last month,
he purchased a 6 percent stake
in the Spanish construction company Fomento de Construcciones y Contratas S.A., for 113.5 million euros ($156 million).