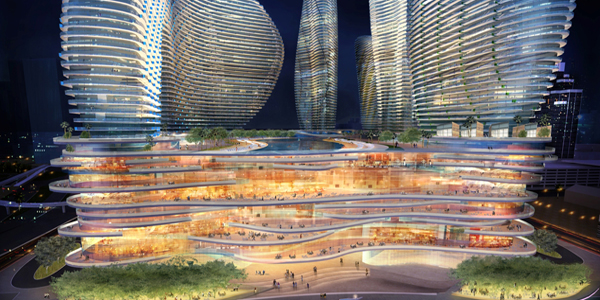 Genting Group Beats Back Preservationists Over Miami Herald Site Use for Proposed Miami Mega-Project, Yet Backs Off Pursuit of Gambling License
It was like the good old days at Miami City Hall recently.
Finger-jabbing, near-insane shrieking and rough corridor jostling. That was the public hearing scene Monday, Dec. 10, as lawyers and architects for Malaysian casino operator Genting Group beat back a high-powered thrust by the influential Dade Heritage Trust to save the 50-year-old Miami Herald building from demolition.
The Trust argues the property should be entered in the National Register of Historic Places. Genting's people successfully maintained there was nothing historic about the real estate.
Miami's historic preservation board argued among themselves and at the end of the 12-hour hearing voted 5 to 3 against saving the Herald building. The board's decision can be appealed to the city commission, but Trust spokespersons said that was unlikely at this time.
Genting officials, likewise, recently told
CBS News
in Miami, their friends and affiliates would not renew efforts to obtain a casino license with the State of Florida in the coming year. The group with which Genting was affiliated had planned a ballot initiative called "New Jobs and Revenues for Florida." The group says it had raised about $1 million for its drive but had already spent most of the money.
Observers attending the hearing said it was obvious Genting won by prudently selecting prominent South Florida professionals to testify against the Trust's petition.
Genting bought the building and its surrounding parking lots at 1 Herald Plaza in the north downtown Omni district for $236 million last year. Genting made no secret at the time that it planned to demolish the building for either a legalized casino or a mixed-use development.
Since Florida has not approved casino gambling yet, Genting's Miami architect Bernardo Fort-Brescia said his client would probably revert to a scaled-down version of the original plan. That might include luxury condominiums, a luxury hotel, restaurants and retail shops and a baywalk.
During a break in the marathon hearing, The Miami Herald reported Fort-Brescia menacingly approached Becky Roper Matkov, executive director of Dade Heritage Trust. The architect poked his finger at Matkov while berating her and International University architecture professor Sandra Suarez, The Herald reported.
The newspaper said Fort-Brescia shouted that he was "offended'' that Suarez had used a quote "out of context'' from an article by his wife, Arquitectonica co-principal Laurinda Spear, about the pressing need to save MiMo architecture in greater Miami.
The Herald
reported "other Genting consultants had to pull Fort-Brescia away" from Matkov and Suarez.
Fort-Brescia said later he thought Matkov and Suarez were incorrectly implying his wife supported historic designation for the Herald building.
Separately, Fort-Brescia also got into a heated argument with Trust lawyer Scott Silver. Silver was asking Fort-Brescia to respond to a Trust argument on saving the building. To halt the shouting, board acting Chairman Gerald Marston cut off Fort-Brescia's microphone and asked him to respond quietly.
Miami Modernist Architecture, better known as MiMo, is a style of architecture from the 1950s and 1960s that originated in Miami, "as a resort vernacular unique to Miami and Miami Beach," according to
Wikipedia
.
Miami Modernism was heavily concentrated in Middle and Upper Miami Beach along Collins Avenue, as well as along the Biscayne Boulevard corridor starting from around Midtown, through the Design District and into the Upper Eastside.
Today, the area along Biscayne Boulevard is the designated MiMo Biscayne Boulevard Historic District, also known as "MiMo on BiBo", for "Miami Modern on Biscayne Boulevard".
MiMo Historic District runs roughly from 50th Street to 77th Street along Biscayne Boulevard, although MiMo can be found heavily in the Design District and Midtown.
See related news stories on
WORLD PROPERTY CHANNEL
: