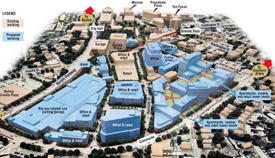 Quincy, MA Approves Historic $1.8 Billion Downtown Redevelopment Project Under Unique Financing Plan
At a time when cities and states are financially hobbled, the $1.8 billion Downtown redevelopment plan approved 8 to 0 by the Quincy, MA city council is not only noteworthy in real estate and new construction circles but historic as well.
No other city or state has so far announced a similar project to cope with the millions of unemployed in their communities, according to Real Estate Channel research.
Quincy, part of metro Boston, has an estimated population of 92,000, according to the last census.
A firm ground-breaking date still hasn't been announced but highlights of the project, called New Quincy Center, include:
4,100 construction jobs and 5,700 permanent jobs.
More than 1 million square feet of new office space.
More than 700 housing units, two hotels, a cinema and entertainment complex.
570,000 square feet of new retail and restaurant space.
Ground-breaking tentatively scheduled to start in late 2011 or early 2012.
First phase tentatively scheduled to open in 2013.
Largest private investment in Quincy's 218-year history.
Boston-based Hancock Adams Associates (HAA) is the developer; its managing member is Street-Works Development LLC, a company with 30 years experience in major redevelopment projects.
After development, the City expects to receive $10.1 million in property tax revenue.
In a prepared statement, Quincy Mayor Thomas P. Koch and Street-Works believe New Quincy Center could become the new model for urban redevelopment projects across Massachusetts.
At the heart of the master agreement is a financing mechanism that will require revenue from the new private development to pay for $227 million in public infrastructure costs.
Koch says this is a wholesale reversal of traditional urban redevelopment by requiring the private investment to come first.
The mechanism, called the "purchase model," largely eliminates the public risk often associated with redevelopment projects. It works this way:
The City will purchase the public infrastructure - including parking garages -- from Street-Works only when new buildings are occupied and producing enough revenue to cover the City's debt costs.
The Koch administration and Street-Works spent nearly three years negotiating the terms of the agreement with legal and financial teams that included a number of the most experienced land-use lawyers in Massachusetts.
It will be the first large-scale development project in Massachusetts to use the framework, officials said.
"This is an unprecedented opportunity and a private-public partnership in the truest sense that will make Quincy the economic engine for the entire region in the years to come," said Koch.
"Most importantly, this historic agreement protects our taxpayers.
"We do not borrow any money until the project is producing revenue, and no money from our general fund or any increased property taxes on our homeowners will go toward this project.
"The financing is entirely project-based."
"The passing of the LDA is a huge milestone for this project, bringing us one step closer to the realization of the New Quincy Center." said Ken Narva, Co-Founder and Managing Partner of Street-Works.
"Through the years of hard work with the City and the Councilors, together we are ensuring Quincy is poised to grow and thrive for future generations."
The primary plan calls for $277 million in public infrastructure improvements as part of the project, including new underground utilities and public parking facilities with 3,500 spaces.
The City and Street-Works are working to secure $50 million in state and federal grant funds for a portion of the improvements, with the remainder to be financed by new taxes and parking revenue from the downtown project.
Under the agreement approved by the Council, called a Land Disposition Agreement, Street-Works will pay the City $30 million to cover downtown-related debt already incurred through construction of the Quincy Center Concourse and other related redevelopment costs.
In return, the agreement allows for the primary project to be expanded by up to 750,000 square feet of development and an additional $11.5 million in public improvements.
The agreement includes firm benchmarks in which Street-Works must show that buildings are leased, parking spaces occupied and adequate revenue is flowing, before the City is obligated to pay for the public improvements.
Under the plan, the City will use state urban redevelopment law known as Chapter 121A as the property tax structure for the development.
After development, the City expects to receive $10.1 million in property tax revenue. Of that, 6.8 million will go toward paying for the public improvements, and $3.6 million will come straight to the City's general fund.
Other new revenues such as new meals taxes, hotel room taxes and property taxes outside the immediate project area are expected to generate at least a total of $7.1 million in new revenue beyond what will be used to pay for the public improvements.
In the end, the agreement will mean a 4 to 1 ratio of private spending to public investment, a figure substantially higher than most traditional urban redevelopment projects, Koch said.
Other project highlights include:
A $10 million payment to the City from Street-Works to fund public improvements outside of Quincy Center.
50-cent per square foot maintenance fund paid for by Street-Works to fund improvements within the development district.
$10,000 contribution to the City's Affordable Housing Trust Fund for every housing unit developed.
Quincy, located in Norfolk County, was settled in 1625 and incorporated in 1792.
Quincy is the birthplace of former U.S. Presidents John Adams and John Quincy Adams, as well as statesman John Hancock, fourth and longest serving President of the Continental Congress, according to Wikipedia.
---