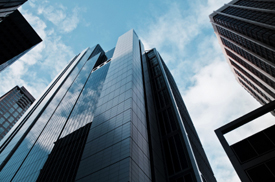 The Commercial Lending Spigot Opens in Several Markets with Fannie Mae Leading the Way
(UNIONDALE, NY) -- "Despite the perception of doom and gloom, deals are happening."
That's not coming from the White House.
It is emanating from Richard E. "Rick" Barnes, a broker with 30 years in the commercial field and currently vice president of capital markets for eight-year-old Whelan Associates in New Bedford, MA.
"What is not seen very often in the headlines is that real estate transactions are still getting done," says Barnes. "Yes, business activity continues, albeit not as robust as in previous years.
"But properties that offer solid real estate fundamentals are still attracting significant interest from real estate investors.
"Nationally, major transactions occur every day, in every property sector, in every market across the country."
Arbor Commercial Funding in Uniondale, NY is a good example of where the lending activity is starting to pickup.
Many of the brokerage's individual loans are under $10 million. Elsewhere, not many are over $50 million yet, Real Estate Channel finds in an impromptu phone and e-mail industry survey.
But the deals are getting done.
For example, Arbor closed five deals in four states today, totaling $14 million. The firm has closed a deal a week for the past six months. The Fannie Mae DUS product line has provided funds for many of the transactions.
In Dallas, TX, Arbor broker Bob Anderson came up with a $7.49 million, 10-year loan at 6.70 percent amortized over 30 years for the 276-unit Carousel Apartments.
Elsewhere in the Southwest, Arbor vice president Jay Porterfield handled four 10-year Fannie Mae loans totaling $6.62 million and amortized over 30 years.
He brokered a $1.6 million loan at 6.11 percent interest for the 64-unit Amber Square Apartments in San Antonio, TX; a $1.33 million loan at 6.11 percent for the 61-unit Pebble Beach Apartments in Universal City, TX; a $1.5 million loan at 6.33 percent for the 56-unit South Park Apartments in Baton Rouge, LA; and a $2.18 million loan at 6.83 percent for the 120-unit Treetops Apartments in Broken Arrow, OK.
Criticism in recent weeks of President Barack Obama's bailout plans for financial institutions comes from some pro-business sources who argue small businesses aren't getting enough help.
But in Quakertown, PA (Pop. 8,931) the Annapolis, MD office of Boston-based Tremont Realty Capital structured a 10-year, $9.36 million loan at 6.4 percent interest for Richland Meadows, a 70-acre, 406-unit manufactured housing community. The non-recourse loan was 65 percent loan-to-value.
"It was tricky to navigate this loan closing through the turbulence of the current capital markets," says John Chase, a Tremont Realty Capital senior director.
"Strict and ever-evolving underwriting criteria resulted in a $300,000 shortfall in loan proceeds.
"A creative structure was (then) devised which enabled the sponsor to borrow the additional funds as an unsecured personal loan from an affiliate lender."
In metropolitan Washington, DC today, Bulls Capital Partners brokered a $2.3 million Fannie Mae loan through SunTrust Bank to refinance the 116-unit, 54-year-old Connecticut Park Apartments near the National Mall and the National Zoo.
Herman E. Bulls, president and CEO of Bulls Capital Partners, commended "Fannie Mae's commitment to providing capital for well-positioned assets during this critical time in the capital markets."
In metropolitan Pittsburgh, S&T Bank of Indiana, PA, provided $13.4 million to Concord Hospitality Enterprises of Raleigh, NC for an under-construction 124-room Courtyard by Marriott Hotel. S&T Bank also had financed six other Concord hotel projects.
Keith McGraw, a Pittsburgh-based Partner of Concord, says the financing was largely obtained only because of Concord's "long-standing relationship" with the bank.
In Hartford, CT, a tenant that also happened to be a bank, provided a three-year, adjustable-rate, $35 million loan for the 98-percent leased, 28 tenant, 621,305-square-foot, 26-story One Financial Plaza.
"People's United Bank's involvement is a reflection of how local and regional banks are aggressively filling the capital void left behind by the lack of appetite from life insurance companies and CMBS providers," says Gerry Yates, a former managing director in the Hartford office of Holliday Fenoglio Fowler.
In San Clemente, CA, Marcus & Millichap Capital Corp. arranged a $4.76 million, 70 percent loan-to-value, fixed-rate loan to refinance a 23,602-square-foot mixed-use office and retail building.
Mark One Capital Inc. of San Diego provided the five-year loan at 6 percent with a 30-year amortization schedule.
"We were able to deliver an interest rate 100 basis points below the competition," says Chad O'Connor, a senior director in Marcus & Millichap's San Diego office.
---