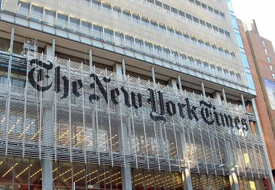 New York Times Co. Sells Part of Headquarters Space in $225M Sale-Leaseback Deal
(NEW YORK, NY) -- It isn't often that a big media player itself gets involved in a major real estate deal but that's what happened today in New York.
The New York Times Co. sold 21 floors of its condominium office space totaling 750,000 square feet in the two-year-old, 1.5-million-square-foot headquarters building. The buyer was New York-based W.P. Carey & Co.
The sale-leaseback transaction is valued at $225 million, according to a joint announcement by the companies.
The lease term is 15 years. The Times Co. has an option to repurchase the condominium interest for $250 million during the 10th year of the lease term.
The Times will pay rent of $24 million for the first year with higher payments scheduled through the term of the lease.
Janet L. Robinson, president and CEO of the Times Co., says the $225 million proceeds from the sale will be used to retire long-term debt. The Times reported 2008 revenue of $2.9 billion.
Robinson says the deal was done at this time because "W.P. Carey was able to clearly understand our company, our facility and our objectives.
"It's history and outstanding reputation in the sale-leaseback industry gave us the confidence that it would be the right firm with which to do this transaction."
The 52-story building, designed by Italian architect Renzo Piano, was completed in 2007 at a construction cost of $1 billion. The slim-looking steel structure is on Eighth Avenue, between 40th and 41st Streets and across the street from the Port Authority Bus Terminal.
The new building is near the previous Times headquarters site on 43rd Street which had housed the newspaper's operations since 1913.
The new building is co-owned by the New York Times Co. and Brooklyn, NY-based Forest City Ratner Companies. The Times portion includes floors 2 to 27. Forest City Ratner owns floors 29 to 52. The Times and Forest City Ratner both own floors 28, 51 and the lobby.
The New York Times Co. comprises The New York Times, the International Herald Tribune, The Boston Globe, 16 other daily newspapers, radio station WQXR-FM. The Times Co. portfolio also has more than 50 Web sites including NYTimes.com, Boston.com and About.com.
W.P. Carey & Co. provides long-term sale-leaseback and build-to-suit financing for companies worldwide. The 36-year-old company manages a global investment portfolio worth about $10 billion. It has contracts with about 300 long-term corporate investors spanning 28 industries and 14 countries.
W.P. Carey & Co. is traded on the New York Stock Exchange.
---