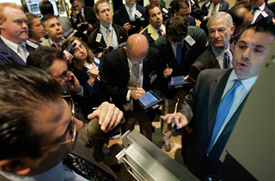 Orlando-Based Eola Property Trust files for $675 Million IPO
Eola Property Trust, the largest owner of office buildings in metro Atlanta and one of the country's biggest landlords, has filed a $675 million initial public offering with the Securities and Exchange Commission.
If its IPO is successful, Eola would have an edge on building owners that cannot tap the public markets for cash.
The move comes a little more than a year after Eola bought Miami-based America's Capital Partners' nearly eight-million-square-foot office portfolio, much of it in Atlanta.
Eola also has extensive commercial real estate holdings in Jacksonville.
The IPO coincides with a strong performance by REITS in the third quarter, during which investors placed more bets on real estate, anticipating rising property values into 2011, according to the
Jacksonville Business Journal.
Key REIT indices showed stronger gains than the rest of the equity market, including the S&P 500, according to the National Association of Real Estate Investment Trusts.
That confidence is reflected by the blue chip underwriters on Eola's IPO, including Bank of America Merrill Lynch, Barclays Capital and Wells Fargo Securities LLC.
According to its SEC filing, Eola plans to use the money raised from its IPO to expand, by acquiring buildings in other Southeastern and mid-Atlantic markets.
It intends to use about $389.5 million to repay outstanding indebtedness; $141.6 million to acquire the 1110 Vermont Avenue property in Washington, D.C.; $51.9 million to acquire interests in properties; and $15 million to fund a reserve account for capital expenditures.
"This will be seen as positive news, a renewed confidence in the real estate market," Mike Elting, executive managing director of the Southeast region for real estate broker Cushman & Wakefield of Georgia Inc., told the Atlanta Business Chronicle.
Eola CEO Rudy Touzet worked for Cushman & Wakefield in Miami, where he held a number of positions, including managing director of the Florida area, from 1994 to 1997.
"I've known him for years," Elting said. "They have a smart management team. They know what they are doing. They wouldn't take on something like this unless they saw values stabilizing across the industry."
Brian Olasov, a managing director and capital markets expert with the Atlanta law firm McKenna Long & Aldridge LLP, told Atlanta Business Chronicle REITS that go public stand a better chance of luring investors if they have "immediately available assets."
"Investors want a proven track record," he said.
If the IPO succeeds, Eola will own interests in a 57-property portfolio, totaling 12 million rentable square feet, once its IPO is complete.
Besides Orlando, its other key markets include Philadelphia, Jacksonville, Washington, D.C., and Tampa.
---