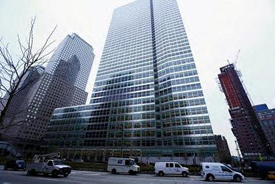 GOLDMAN SACHS UPDATE: Bankers Revel in New $2.1 Billion HQ Building as International Controversy Tarnishes 141-Year-Old Image
Despite a surprise stinging civil suit brought against it by the Securities and Exchange Commission on April 16, the 141-year-old Goldman Sachs investment bank offers apologies to no one as 6,500 of its 7,500 employees move into new headquarters, steps away from the Hudson River and the New York Harbor in lower Manhattan.
Please see related Real Estate Channel posts:
The company is relocating from cramped Wall Street quarters at 85 Broad Street to a $2.1 billion, 43-story, 2.1 million-square-foot, 740-foot tower at 200 West Street, just across the road from Ground Zero and the World Trade Center terrorist attacks in 2001.
The new Goldman Sachs World Headquarters tower is located in the 90 acre Battery Park City, a planned community at the southwestern tip of Manhattan. Battery Park City also includes the World Financial Center, The New York Mercantile Exchange and several condominium/apartment building complexes.
Founded in 1869, Goldman Sachs put up little of the construction money, according to published reports. In 2004, Goldman decided it was time to trade up from its Broad Street headquarters, the WSJ reports.
At the time, financial companies, rattled by the 2001 terrorist attacks on the World Trade Center, were threatening to leave downtown Manhattan. In 2005, Goldman received tax breaks and grants from New York City valued at more than $200 million toward the new building, according to the WSJ.
Goldman Sachs has been relocating its executives and employees since November 2009 but hesitated launching a gala publicity scenario because of its current legal problems with the SEC, according to several New York City publications.
Chairman and CEO Lloyd Blankfein arrived a few weeks ago.
The building broke ground in 2005 but was plagued with construction and other problems from the start, according to The Wall Street Journal.
In 2007, seven tons of steel fell off the 740-foot-tall building, paralyzing an architect on the ground. Then a sheet of steel plummeted from the 18th floor, landing in a baseball field where a Little League game was being played. There were no injuries.
The building's first 18 floors are used for 75,000 square feet trading spaces.
But a new class of haves and have-nots has emerged--even at Goldman where the notion of have-nots is relative, the WSJ reports. Outside offices are now reserved only for the firm's more than 300 elite partners.
Managing directors, next down in the Goldman hierarchy, almost always get windowless inside offices. And vice presidents, many of whom had offices before the move, now sit at open-space workbenches that in an earlier era would have been called a typing pool. They aren't thrilled, the WSJ reports.
The new place has a mural in the lobby (bottom, as seen through a window with reflections from street. The building features six massive trading floors, each larger than a football field and equipped with enough flat-screen monitors to stock a Best Buy retail electronics store.
The basement houses 92 storage tanks that hold 1.7 million pounds of ice made each night when electricity rates are lower than during daytime hours. Air cooled by the melting ice circulates throughout the building, according to the WSJ.
One of the building's most notable features is the Sky Lobby on the 11th floor. Flooded with light from a glass ceiling, the area resembles a massive auditorium-like space that houses banks of conference rooms, a cafeteria and employee gym.
Henry Cobb, a partner at Pei Cobb Freed & Partners, the building's lead architect, calls the Sky Lobby the "living room" of the building.
Classes in Goldman's 54,000-square-foot gym, called the GS Wellness Exchange, start at 8 a.m. or earlier. The gym is larger than many Publix grocery stores and offers a course called "Martial Arts Boot Camp.'
The gym has classes from 5:45 a.m. to 7:50 p.m. The new steam rooms for men and women are drawing mixed reviews.
Some employees find the idea of "steaming" with co-workers objectionable, the WSJ reports. Others, not so much. "Once you have seen your colleagues naked in the locker room, steaming with them isn't that weird," says one employee.
The employee reading lounge features Goldman-approved books, including "On the Brink," the best-seller by former Goldman Chairman and CEO turned Treasury Secretary Henry Paulson Jr.
Employees also can thumb through "The Psychology of Persuasion: How to Persuade Others to Your Way of Thinking" by Kevin Hogan and Mitch Albom's "Have a Little Faith: A True Story."
---