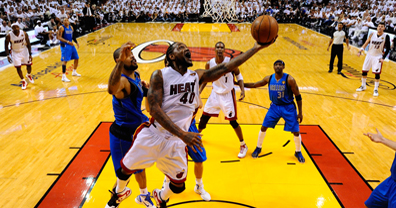 Miami Heat Poised to Become a Billion Dollar Economic Stimulus Package for Local Economy over Next Five Years
(MIAMI, FL) -- For many local Miami real estate agents, hotel owners and business merchants, the Miami Heat - Dallas Mavericks NBA Finals showdown this week will be a slam dunk as cash registers ring up record consumer sales.
According to some, the Miami Heat has become one of the strongest economic stimulus packages in the history of Miami.
And the numbers show it.
Nearby luxury condo sales are spiking, hotel bookings and occupancies are at record levels, and local merchants and restaurants are smiling as tens of thousands of customers are visiting their local establishments in the wake of the Miami Heat's playoff run to the NBA Finals this week.
According to Wendy Marks Pine, Cervera sales director of the Marquis Residences, which is a new luxury condo tower just one block from the Miami Heat arena, "Sales are significantly up because of the Miami Heat playoffs. We just had a record sales month in May with 15 additional condo units sold, bringing our tower to 70% sold status."
The 67-storey Marquis Residences tower has 292 total units ranging in price from $570,000 to the mid $2 million range.
Pine further comments, "Many of our buyers are from international markets like Brazil, Venezuela and Italy, many of which are big Heat fans and after moving in, attend their games regularly."
Bill Talbert, President of the Greater Miami Convention and Visitors Bureau (GMCVB) commented, "The meter starting running the very night LeBron James announced his decision on national TV that he was coming to Miami, and the phones haven't stopped ringing since."
Over the last 4 months, Miami has enjoyed being the best-performing hotel market in the U.S. based on occupancy rates, which has been at a record high 80.6%. "We are at a recording breaking pace this year, and that's without even hosting any Super Bowls this year" said Talbert. "LeBron and team are their own economic stimulus package for Miami."
Talbert also told the
World Property Channel
that the final playoff game between the Miami Heat and Chicago Bulls was the highest viewed cable television NBA broadcast in history based on Nielsen ratings.
According to Tony Argiz, CEO of Morrison, Brown, Argiz & Farra, the state's largest Florida-based accounting firm, "The Miami Heat are poised to become a $600 million to $1 billion dollar economic stimulus package for the local Miami economy over the next five years."
Argiz further explained, "If you do the math, and look at how a single Super Bowl week event generates a reported $250 million dollar economic boost to the local economy, it is easy to get to a $1 billion number if the Miami Heat has subsequent multi-year playoff runs over the next five years. And remember, each playoff run is an extended 50 days of NBA action in this town beyond the regular season of play."
"The Miami community is already a winner in this championship," said Frank R. Nero, President and Chief Executive Officer of The Beacon Council. "The exposure, the beauty shots and the constant mention to millions of viewers should show, if not immediately, then within the coming months as people decide to visit and maybe even live and do business here. We hope they follow Dwyane Wade, Lebron James and the many other superstars down here. Miami is a phenomenal place."
"Already fast becoming an urban hotspot, downtown Miami has been feeling the 'Heat' this playoff season, with its bars and restaurants packed with fans looking to be a part of the action just steps from the arena. This, combined with the more than 70,000 people now living within the district has been a shot in the arm to the local economy, leading to more interest and investment in the area," said Miami Downtown Development Authority Executive Director Alyce Robertson. "Downtown Miami is primed to emerge as a center for sports and entertainment, which has only been bolstered by the images of downtown Miami and its iconic skyline that have been transmitted into millions of homes across the country."
Eric Woolworth, President of The Heat Group's Business Operations, said "When we built the American Airlines Arena 11 years ago, downtown Miami was a veritable urban wasteland. We are very proud that our decision to stay in Miami at that time has paid off for the community, and that our ownership's vision to become the beachhead for a rebirth of downtown has come to fruition. It is a really exciting part of what the Miami Heat is currently doing, and we are really happy for all of the businesses in our community that are benefiting from our success."
---