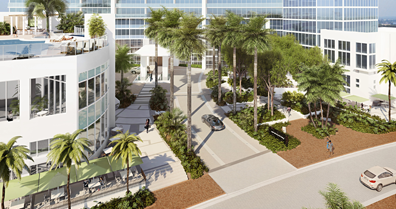 Miami's Paramount Bay Tower Commences Condo Sales, Partners with Musician Lenny Kravitz's Design Team
(MIAMI, FL) -- The Miami condo market continues to rebound.
The latest project to enter the market is Paramount Bay, a high-profile Miami luxury condo project that originally broke ground in 2005 by developer Dan Kodsi of Royal Palm Miami Holdings.
While it is an attractive waterfront condo project, it has gone through a long journey with lots of twists and turns to get here today.
In 2006 Royal Palm Holdings took out a $200+ million construction loan from now failed Chicago-based Corus Bank and iStar Financial. By 2008 Royal Palm Holdings was struggling to pay its bills as the condo tower was nearly half-completed and the housing market plummeted.
The project was also plagued with several construction accidents that included the death of two construction workers when a roof-top construction crane fell 37 stories from the top of Paramount Bay.
In addition, Paramount Bay's primary lender Corus Bank went belly-up in 2009 after making too many bad real estate loans.
The final sequence of events for Paramount Bay was this past April 2011 when iStar Financial won a $262 million foreclosure settlement against Royal Palm Holdings, which cleared the way for a bulk auction sale last spring.
Now under new ownership and plenty of financial backing, this week Paramount Bay kicks-off new sales this month with a team of seasoned real estate professionals, announced by the property's owners, iStar Residential and ST Residential, and sales and marketing firm, Fortune International.
The 47-story bay front tower continues moving towards an early 2012 unveiling, with residential occupancy available now.
The more than 340 units at Paramount Bay feature a variety of 1, 2, 3, 4 and 5-bedroom layouts, ranging from 1,214 - 4,437 square feet. Units are priced from the $400,000s, or at an average of $400 per square-foot.
"The market-leading development team on this project continues to progress towards the completion of Paramount Bay over the next few months," said Anthony Burns, Senior Vice President of iStar Residential.
"The work that has come to fruition from Lenny Kravitz and Kravitz Design Inc., Fortune International and our other key partners is truly exceptional. We are now ready to introduce these unique luxury residences to new prospective buyers."
Lenny Kravitz tells the
World Property Channel
, "My vision for Paramount Bay is one that integrates the natural beauty and energy of Miami into a look that is as functional as it is inspirational. Life within the walls of Paramount Bay should be a blend of urban chic and waterfront living. Every corner, space and turn is strategically envisioned to emphasize this."
"We are thrilled to be launching the new sales at Paramount Bay," said Edgardo Defortuna, President of Fortune International. "This is one of the most exciting additions to the South Florida landscape and we are extremely confident it will be very well received by the market. It is the perfect timing for this type of product in such a vibrant location."
---