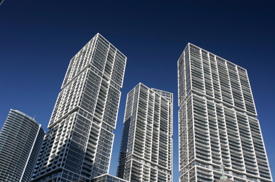 1,900 New Miami Condos Taken Back by 3 Lenders in Last 45 Days
According to a new report by Miami-based Condo Vultures, LLC, a trio of lenders has taken control of more than 1,900 new unsold condos located in six skyscrapers in Greater Miami since mid-April in three separate transactions.
Newly created entities of HSBC Bank USA, Bank of America, and iStar Financial have taken ownership of a combined two million square feet of new saleable condo space in a pair of troubled projects - Everglades on the Bay and ICON Brickell - in Greater Downtown Miami and a third project - Terrazas Riverpark Village - just east of Miami International Airport, according to the report based on Miami-Dade County records.
The latest condo grab comes eight months after Starwood Capital Group's residential division purchased the condo construction loan portfolio of the failed Corus Bank. Starwood Capital's loan portfolio in South Florida includes the new Paramount Bay and Mint projects in Greater Downtown Miami, according to Condo Vultures.
"We are entering the phase of the real estate cycle where the lenders, not the developers, are dictating the course of the condo market going forward in Greater Miami," said Peter Zalewski, President of Condo Vultures. "This is a position that lenders are not comfortable being in as owning and managing real estate carries with it various responsibilities and liabilities that are out of their circle of expertise.
"Given the risk, watch for the lenders to introduce options that were previously not available to the developers of the troubled projects."
Financing for buyers of condominium units is one aspect of the market that could suddenly become more readily available now that the lenders own the units. Consider that in the first quarter of 2010, only 17 percent of the 713 new condo sold by developers involved financing.
It is unclear whether the lenders, which have generally resisted selling off several units at deep discounts, will suddenly embrace bulk deals.
To date, bulk buyers of new condos have transacted more than 40 deals for more than 3,600 units and more than four million square feet of saleable space at a price of nearly $1 billion, according to the Condo Vultures.
Nearly half of the bulk deals - 19 transactions for more than 1,000 units - have occurred in the Greater Downtown Miami market where developers constructed nearly 22,250 new condo units since 2003. In the four decades prior to the boom years, developer constructed only 11,500 units in that same 60-block stretch, says Condo Vultures.
The latest project to go back to the lender is the bankrupt Everglades on the Bay twin-tower condominium complex in Greater Downtown Miami.
On May 28, the developer of the Everglades on the Bay announced that a deal had been cut to transfer title of the remaining 712-unsold units out of 849-total condos in the complex to the lending syndicate headed by Bank of America.
Mired in bankruptcy since August 2009, the project's developer, Cabi Downtown LLC with manager Elias Cababie, announced the turnover Friday afternoon in a statement, characterizing the deal as an "agreement in principle."
Two weeks earlier on May 13, an HSBC Bank USA entity had taken ownership of 870 units with one million square feet of livable space and three expansive commercial spaces in two 57-story towers in the three-building ICON Brickell complex in Greater Downtown Miami.
ICON Brickell LLC, an HSBC holding company created on March 29, took title to the new luxury condo units and commercial space as part of a $342 million deed-in-lieu-of-foreclosure transfer from the developer, the Related Group, recorded on May 13, according to the report based on Miami-Dade County records.
A month earlier in mid-April, a Miami developer who was unable to sell a single unit in the new 324-unit Terrazas Riverpark Village condominium complex west of Greater Downtown Miami lost the two-tower project to the lender, iStar Financial.
The Terrazas Riverpark's original developer, Windmoor Project LLC with Miguel Angel Barbagallo as principal, signed a "special warranty deed in lieu of foreclosure" that was recorded on April 13 in Miami-Dade County.
Before recording the deed-in-lieu document, the lender established an entity - 1861 NW South River Drive - Miami LLC - to take title to the Terrazas Riverpark project that stands on nearly 2.2 acres north of the site of the new Florida Marlins ballpark.
---