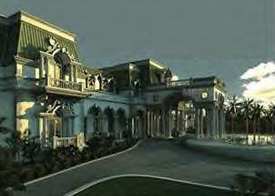 Timeshare Developer David Siegel Selling His $100 Million Orlando Mansion
Orlando timeshare developer David A. Siegel has placed his 90,000-square-foot mansion on the selling block with a listing price of $100 million.
That equates roughly to $11,200 per square foot - unquestionably the most expensive residence ever listed in Central Florida, according to Orlando brokers who deal in high-end home sales.
The 13 bedroom, 23 full-baths mansion, under construction for about three years, is not totally finished.
That means the actual selling price would be $100 million if the buyer plans to have construction completed with a design other than the original architecture inspired by the palace of Louis XIV of France in the 17th century, Lorraine Barrett of Coldwell Banker Residential Real Estate tells
Real Estate Channel
.
If the buyer agrees to have Siegel complete the structure in the Louis XIV mode, the listing price could drop to $75 million.
Please see related Real Estate Channel postings:
Barrett has the exclusive listing for the property at 6121 Kirkstone Lane in Windermere, an affluent suburb southwest of Downtown Orlando.
"I envision this home as being for a family with at least four children who would live and play in this environment without having to leave the premises for almost any other amenity," Barrett says.
She says Siegel, who turned 75 on May 3, has plans for other major commercial and residential projects throughout the country.
The advertisement in the
Wall Street Journal
describes the mansion as "the largest modern day palace under construction in America."
The property sits on a 10-acre-plus peninsula with one-quarter mile of pristine shoreline on Lake Butler in the internationally known Butler Chain of Lakes.
The lot is 200 feet by 200 feet. The structure itself is 67 feet tall.
Among the numerous amenities are a 20-car garage, three swimming pools, large boat house, formal gardens, a one-story gatehouse with an apartment.
There is also a baseball field, two tennis courts, a 60 foot by 120 foot Grand Hall with a 30-foot stained glass dome, two grand staircases, a 37 foot by 30 foot kitchen, 10 satellite kitchens, a two-story wine cellar and a rock grotto with three separate spas behind an 80-foot waterfall.
Additionally, there is a complete fitness center with spa facilities, a two-lane bowling alley, an indoor roller skating rink, a video arcade, a half-acre main pool deck, a children's wing with a family room, a movie theater, an activity room and a separate computer room.
The amenities don't finish there. Also constructed is an adult movie theater with a balcony, four fireplaces, a formal dining room that seats 30, all 23 full baths with full-sized Jacuzzis, 160 tripled paned windows and Brazilian mahogany French-style doors that alone cost $4 million.
The banquet kitchen features two large commercial gas stoves, four commercial built-in refrigerators and a Japanese-style steakhouse island that seats 12.
If that isn't enough under one roof, there is also a His and Her office space with a 12-foot two-sided aquarium.
Adds broker Barrett: "This is truly a one-of-a-kind family friendly mansion that is waiting for a one-of-a-kind buyer that wants the lifestyle of a personal private resort."
---