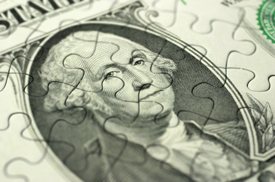 SPECIAL REPORT:
Home Buyer Tax Credit Finale Triggers Pros and Cons on Costly Program
Tax policy experts charge much of the $12.6B in credits went to unqualified buyers.
IRS audit confirms more than 70,000 taxpayers had improperly claimed tax credit.
Treasury Dept. Inspector General for Tax Administration J. Russell George found one tax credit application submitted by four-year-old.
Sen. Johnny Isakson (R-GA) praises program for pushing buyers to do deals now instead of later.
Tax Credit helped to slow price declines, says Moody's Mark Zandi.
End of tax credit program will have little effect on future home purchases, says media consultant and author Charles Feldman.
Former Senate revenue estimator Pete Davis sees little economic benefit to the nation from the tax credit program.
The country's unique home buyer tax credit program ends at midnight today - not with a whimper but with mixed reaction from varied sources.
Through February, the government approved a total $12.6 billion in tax credits.
Most of that amount was collected by buyers "who would have bought homes anyway or who, in some cases, were not even eligible," reports
The New York Times
.
For every homebuyer who really needed the credit to decide on a purchase, real estate agents tell The Times there are at least three others who collected the credit even though they would have bought without it.
"It's true that a lot of people who got the credit might have bought without it, but they might have bought in 2012 or 2013," said Senator Johnny Isakson, a Republican from Georgia, who worked for 30 years as a real estate agent.
"This got them to buy in 2009 and 2010, when we needed to shore things up."
For each new buyer who was truly lured into the market by the credit, the federal government paid more than $30,000, according to the newspaper.
In addition to legitimate buyers, tens of thousands of people who collected the credit were not qualified.
An audit by the Treasury Inspector General for Tax Administration released last year found hundreds of millions of dollars in credits went to people who had not yet bought homes or who were not first-time home buyers, as the program initially required.
Hundreds of others who received the credit were not old enough to sign a binding contract, the audit found, with some as young as 4 years old, The Times reports.
But the program was open to widespread misuse.
The first two phases of the credit did not require taxpayers to prove that they had actually bought a house.
The Treasury's Inspector General for Tax Administration found in October 2009 that the IRS had allowed $139 million in credits to people who had not yet bought homes, and $479 million to taxpayers who were not first-time buyers.
"Some people claimed the credit who didn't even buy a house because, initially, there was no proof needed that they had actually done so," writes media consultant and author Charles Feldman on Housing Watch blog.
"What all this would suggest is that the end of the program should not really have much of an impact on home purchases. Those who are bent on buying will probably buy and those who are not - or can't - won't."
Feldman says, "The conventional wisdom has it that the soon-to-expire government tax credit for home purchases was a success.
"After all, it drove people back into the real estate market and helped to ignite a fire under a still-nascent recovery.
"But suppose the conventional wisdom is wrong? Suppose it was all really smoke and mirrors?
"Suppose most of the recent home buyers were going to buy a house anyway, with or without the credit; while many others weren't even old enough to buy a house, which didn't stop them (or their parents?) from claiming the government credit."
The IRS resisted proposals to require proof that a home had been bought, with officials saying that the additional paperwork would be too onerous because it would prevent returns from being filed electronically, The Times reports.
Tighter restrictions were nonetheless enacted. As of last fall, those claiming the credit were required to file a paper return and provide documentation that they had bought a house.
IRS officials say that examiners found more than 70,000 taxpayers who had improperly claimed the credit, but were unable to say how much money had been recovered.
Frank Keith, an IRS spokesman, told The Times, "Given the complexities of the program, we did an effective job," administering it.
Still, the credit has caused a surge in sales and has been widely lauded for helping to stabilize prices.
"There's a political appeal to offering government aid to homeowners because it affects a lot of people," says George K. Yin, former chief of staff of the Congressional Joint Committee on Taxation.
"But if you weigh the cost and the results, you have to wonder whether it's a failure of imagination." Yin now teaches at the University of Virginia.
Some tax policy experts suggest that the federal government might have used the money more effectively by creating a program to help unemployed homeowners stave off foreclosure.
"If you tried to address the supply side of the housing market rather than the demand side, you could target your resources more effectively," Roberton Williams, an analyst at the Tax Policy Center, told The Times.
"And you'd also have the benefit of helping to keep people from losing their homes instead of subsidizing people who were going to buy anyway."
But other economists say that, whatever its inefficiencies, the home buyers' credit had a valuable effect on the psychology of millions of Americans who were alarmed to watch their largest investment lose value.
"The tax credit helped to stanch the price declines, which had substantial benefit for the entire economy," says Mark Zandi at Moody's Economy.com.
"The home is still the largest asset on most people's balance sheet, so when prices are falling, nothing works for most families. But now people can take a deep breath and think clearly again."
The home buyers' credit was actually an amalgam of three separate programs. It began in spring of 2008 as a $7,500 tax credit that taxpayers were required to repay on their tax returns over a 15-year period, The Times reports.
After the financial crisis that fall and taxpayer anger over the hundreds of billions in bailout money being directed to banks and Wall Street firms, a broad subsidy for middle-class homeowners had wide political appeal.
"So Congress sweetened the plan -- dropping the repayment requirement and increasing the credit to $8,000 -- and included it in the economic stimulus bills," The Times reports.
Last November, with the residential market beginning to rebound, Congress extended the period for five months and added a $6,500 credit for existing homeowners looking to relocate.
The Times reports that after the number of homes sold in January and February dropped to record lows, sales rose 6.8 percent in March from a year earlier, as buyers raced to cash in before the credit expired.
Nearly half of all March home sales involved first-time buyers, according to the National Association of Realtors.
Media consultant and blogger Pete Davis assesses the tax credit from a personal view. Even before the credit deadline approached, Davis wrote:
"I formulated the first first-time homebuyer credit back in 1975 when I was a revenue estimator on the Joint Committee on Taxation.
"I didn't like the idea then, and I don't like it now.
"The credit rewards those who would have bought a home anyway, most of whom have higher income than the taxpayers who are paying for it. The taxpayers are mostly renters and get no tax breaks at all.
"The only justification I can see for the homebuyer credit is that it may accelerate home purchase from next year to this year.
"The overall number of homes purchased this year and next won't change much. Check out this Urban-Brookings Tax Policy Center analysis, which makes these arguments in more detail.
"This Congressional Research Service analysis shows how small the economic effect of the homebuyer credit is likely to be."
Davis says the Joint Committee on Taxation estimated the first-time homebuyer credit would cost $4.6 billion when it was enacted on July 30, 2008 in the Housing and Economic Recovery Act of 2008.
It increased that estimate to $6.6 billion when the credit was expanded in the American Recovery and Reinvestment Act of 2009 enacted on Feb. 17, 2009.
Davis cited
The New York Times
front-page story that said the credit has become so popular, it may actually cost (the government) $15 billion.
"That's a lot of money for not much economic benefit and for a windfall to those have good enough credit to buy a home," Davis says.
On a related front,
Reuters
reports Fannie Mae (FNM.N), the largest U.S. residential home funding source, is extending a program to help pay closing costs on purchases of distressed homes from its inventory.
Fannie Mae it will give buyers 3.5 percent of the final sales price to be used toward closing costs or for selected appliances on purchases closed by June 30. The program started in January and was set to expire at the end of April.
The mounting supply of distressed homes held by Fannie Mae has eaten in to its capital, driving the company to seek government aid, Reuters reports.
In the fourth quarter of 2009, Fannie Mae requested more than $15 billion from the U.S. Treasury to keep its net worth positive.
The company has borrowed more than $76 billion from the government to date.
Homes for sale via government-controlled Fannie Mae's website HomePath.com include single-family houses, condominiums and town houses that have been taken over by the company as delinquencies and foreclosures spiked.
"We are happy with the results of the program, which has helped us to sell properties quickly, thereby stabilizing neighborhoods and property values," Terry Edwards, executive vice president of credit portfolio management at Fannie Mae, said in a prepared statement.
---