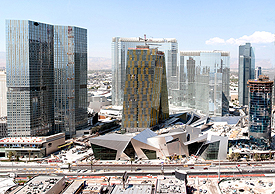 CONDO ROUNDUP: CityCenter Condo Prices in Las Vegas Could be Cut; Reno's Montage Seeks Buyer; Boston Market Weak
(LAS VEGAS, NV) -- South Florida isn't the only luxury condominium market with headaches these days.
In Las Vegas, CityCenter CEO Bobby Baldwin says MGM Mirage and Dubai World, its partner in the $11 billion project, are considering readjusting unit prices this month to pacify concerned owners and potential buyers.
"We remain in the process of recalibrating prices to make it fair for existing owners and to make it compelling for further purchasers to buy," Baldwin says.
The 2,440-unit CityCenter high-rise started selling units in January 2007 when the market was hot. Prices then for 500-square-foot to 1,500-square-foot homes were listed from $600,000 to $2 million.
Today, some owners of the $600,000 units are willing to sell them for $200,000, according to several published sources. The reason: They can no longer handle the original financing terms.
Industry analysts note that lowering condo prices could sharply reduce CityCenter's return on investment from initial projections.
The company's revised $8.5 billion budget for CityCenter, which had peaked at $9 billion before the recession, assumes the company will collect only $250 million in condo sales proceeds on top of the $313 million in condo deposits collected from prospective buyers.
Analysts note MGM Mirage had hoped to collect as much as $2.6 billion from condo sales. The company has sold about 55 percent of CityCenter's roughly 2,440 condo and condo-hotel units. Based on contracted prices, the company has sold about $1.6 billion worth of condos.
Buyers will start closing on the units in December, beginning with the Mandarin hotel and condo tower, which opens Dec. 3, according to Baldwin. Units at Veer, the twin leaning towers fronting the CityCenter complex, are expected to begin the escrow process in January, 2010.. Units at Vdara, the only condo-hotel tower on the site, are expected to begin that process in February.
Also in Nevada, the five-month-old, 377-unit Montage condominiums in Downtown Reno is desperately seeking a buyer after the FDIC seized the assets of the Montage's lender, Corus Bancshares Inc., on Sept. 11.
When it opened in April of this year, the Montage had closed on only 12 of the 142 units it had under contract, according to its developer, Chicago-based L3 Development. L3 returned the Montage title to Corus last year when it couldn't meet its loan terms.
"Downtown Reno is still a good condo market," notes Elliott Parker, an economist at the University of Nevada in Reno. Like South Florida, the Reno condo market "was one of those that grew the fastest," Parker says. "People were subscribing to condos that were not even built yet."
In Tempe, AZ, Tempe Land Co. is asking the U.S. District Court in Phoenix, to allow the company to convert its Chapter 11 filing on the two-building, 800-unit Centerpoint condo community to a Chapter 7 liquidation status.
By so doing, the company told the court it could sell Centerpoint and repay its $133 million loan to Mortgages Ltd. of Phoenix, AZ, and also find about $45 million in new financing to complete the project.
The condos are 90 percent constructed. Tempe was unable to find a lender under the Chapter 11 category. In June 2008, Mortgages Ltd. itself filed for Chapter 11 protection under the U.S. Bankruptcy Code.
In Boston, developers are staging auctions to sell their properties after projected early sales failed to materialize. The latest victim is the new, nine-story, 50-unit Bryant at 303 Columbus Ave. in the city's South End district. Only five units have been sold.
Sales of Downtown Boston condos priced at $500,000-plus have declined by 35 percent so far this year, according to research by Boston-based Warren Group.
Other luxury condo properties sold at auction this year include the 44-unit Broadluxe and the 96-unit Folio, both located in Boston's financial district.
Wasserman Real Estate Capital of Providence, RI and Vornado Realty Trust of New York City are the co-developers of the Bryant condos.
And in Hollywood, FL, two young entrepreneurs from Quebec, Canada, have set up shop in a condo sales office they call Hollywood by the Sea. Francois Laaroque and Yannick Larue, both 21, are targeting Quebecers who spend their winters in South Florida.
Their strategy: Buying luxury condos from owners who no longer can make the mortgage payments. They recently purchased such a property for $52,000. The original owner had paid $212,000 in 2005. The entrepreneurs then resold the property for $62,000 - a 20 percent markup.
Please see related Real Estate Channel postings:
("
Fontainebleau Las Vegas Sues 11 Major Banks For $3B After They Allegedly Reneged on $800M Loan
, April 24, 2009.")
( "
Fontainebleau Las Vegas Asks Bankruptcy Judge for Quick Ruling on $3B Lawsuit
, June 11, 2009.")
("
Miami Condo Developer Gambling on Construction of New Multi-Million-Dollar Downtown Tower
, Aug. 28, 2009.")
("
$500M Fontainebleau Miami Beach Renovation Developers Sued by Contractors
, Aug. 28, 2009")
("
SPECIAL REPORT:
Part 1 -
Miami Luxury Condo Market Sales Rise as Prices Drop
," Aug. 28, 2009")
("
SPECIAL REPORT:
Part 2 -
Will Bulk Sales Stabilize Miami's Luxury Condo Market?
, Aug. 31, 2009.")
("
On Again-Off Again Penthouse at Setai South Beach Returns to Market at $24M
, Sept. 3, 2009")
("
Big-Name Condo Investors Await Corus Bank's Pending Seizure by FDIC
, Sept. 4, 2009.")
("
Bulk Buyers Score Big on Miami Condo Re-Sale Front
, Sept. 4, 2009")
("
Corus Bank Trophy Caribbean Miami Beach Condo Sold After Owner Returns Key to Lender
, Sept. 7, 2009")
("
Fortune International Takes Big Hits on 2 South Florida Real Estate Deals
," Sept. 7, 2009")
("
Unfinished Multi-Million-Dollar Miami Condo-Retail-Office Project $196M in Debt
. Sept. 7, 2009.")
("
Manhattan Hotelier Balazs Lines Up Buyer for High-Profile Boutique Miami Beach Property
, Sept. 9, 2009.")
("
FDIC Getting Ready to Unload Balance of Corus Bank's Condo Assets in October
; Sept. 17, 2009;")
---