---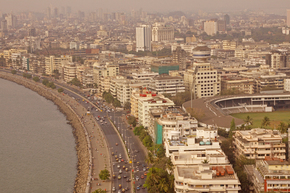 As expected, most of the world's housing markets are struggling this year. Prices are up the most in India and Brazil; down the most in Greece and Ireland.
The latest survey from Global Property Guide shows only one third of the countries monitored saw price gains in the first quarter, the rest saw drops.
The Global Property Guide is based in Bristol, United Kingdom and in the Philippines
House prices fell in 24 of the 36 countries for which quarterly house price statistics are available. Prices rose in only 12 countries.
In nominal terms, only 16 countries experienced house price falls during the year, while 20 countries recorded house price rises. But the Global Property Guide's statistical presentation (shown on this page) uses price changes after inflation. This gives a more realistic picture than the more upbeat nominal figures usually preferred by real estate agents.
Ireland's price-declines have been catastrophic. Prices fell 18.95% year-on-year, contrasting with a decline of 13.12% during the same period last year. Prices were down 5.19% during the latest quarter. Tough credit conditions, an oversupply of housing, and weak domestic demand have weighed down the Irish residential property market, according to Global Property Guide.
There was also an alarming increase in momentum of house-price declines in Athens, Greece (-11.68%); in Warsaw, Poland (-10.94%); in Portugal (-10.45%); in Spain (-9%); in the Netherlands (-6.05%); and in the Slovak Republic (-5.89%). All saw bigger house-price declines this year than the previous year.
Several countries whose housing markets were last year either in recovery or only just in downturn, saw a significant deterioration in their position, with price falls during the year to end Q1 2012 in Finland (-2.05%), in Turkey (-2.32%), Sweden (-5.34%) and Riga, Latvia (-5.83%).
In other European countries, any positive changes in the momentum of the housing markets were so feeble, that they hardly signal a recovery, notes Global Property Guide. These countries include Kiev, Ukraine (-2.51%), Croatia (-2.45%), United Kingdom (-3.14%), Lithuania (-3.87%) and Bulgaria (-6.21%).
Some strong European markets do relieve the gloom. In Estonia, prices surged by 9.13% year-on-year. In Austria, prices rose by 8.24% year-on-year.
Other strong housing markets over the past 12 months include Switzerland (+5.49%), Norway (+5.43%), Russia (+3.86%) and Iceland (+2.25%). The gainers' seem to be countries whose housing markets either never experienced the recent downturn (Austria, Switzerland, Norway), or are recovering (Estonia, Russia, Iceland).
Over the year to Q1 2012, Delhi prices skyrocketed by 24.41%, though during the last quarter, they fell 0.07%. Some other Indian cities like Chennai and Kolkata saw price falls year-on-year, according to NHB Residex.
In Sao Paulo, prices climbed by 18.70% in the year to Q1 2012, but the latest quarter saw a price-decline of 2.57%.
In the Philippines (Makati Central Business District), prime condominium prices rose by 7.34% during the year. But the figures possibly exaggerate the upsurge, because they are for Makati, the heart of the Philippines' business process outsourcing boom. In South Korea, prices were up 2.67% from a year earlier.
Housing markets in the rest of Asia cooled over the year to Q1 2012, due to government measures implemented last year. Prices in Hong Kong were up a mere 0.19% on the year, after a rise of 19.80% the previous year. There were price falls in Indonesia (-0.13%), Singapore (-1.36%), Tokyo, Japan (-2.64%) and Shanghai, China (-3.68%).
U.S prices rose modestly to 0.48% year-on-year, with a quarterly rise of 0.55%, according to the Federal Housing Finance Agency's (FHFA) seasonally adjusted purchase-only house price index. In inflation-adjusted terms, U.S. prices were still down 2.27% from a year earlier. But this is an improvement from last year's 7.44% price decline.
House prices in Israel were down 4.94% year-on-year to Q1 2012. Prices were hit by worldwide uncertainty, plus measures taken by the Israeli government and the Bank of Israel. The fall comes amid popular protests since last summer over high prices, which have not yet waned.
House prices in New Zealand climbed by 0.82% over the year to Q1 2012, after falling 4.79% the previous year. Sales activity has been strong for the last few months, with volumes at the highest levels since 2007.
Australian prices fell for the fifth straight quarter to -6.04% from a year earlier, the longest downturn for a decade. The central bank has maintained the highest borrowing costs among major developed nations.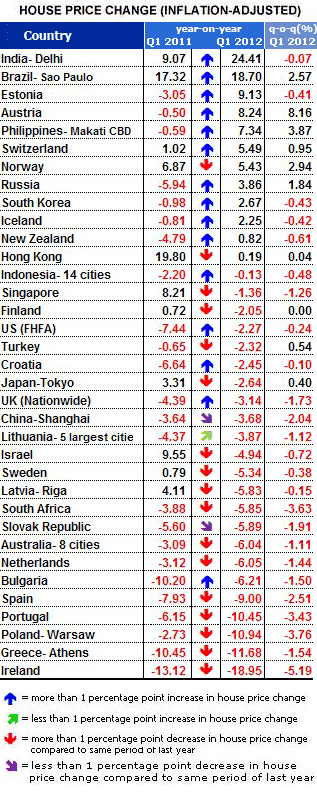 Sign Up Free | The WPJ Weekly Newsletter
Relevant real estate news.
Actionable market intelligence.
Right to your inbox every week.
---
Real Estate Listings Showcase