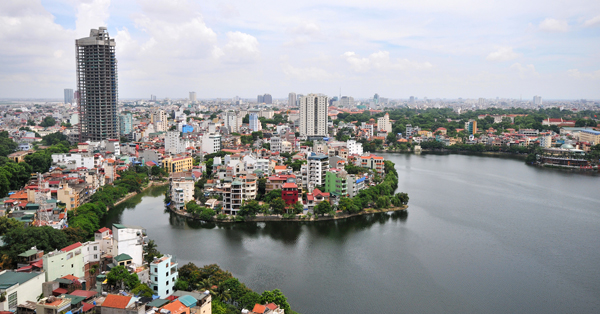 Vietnam Real Estate Still in Doldrums but New Opportunities Emerge
Vietnam commercial and residential real estate's three-year downturn may be turning following a stock market rally, three straight monthly interest rate cuts and renewed interest by the government to help the industry recover.
Office and residential development appear to be near-future opportunities. Until now, investors have lost confidence in the property markets. Instead, they have been placing their funds into gold, equities and bank deposits.
Now, however, the government has imposed tighter legislation on gold trading. Bank deposit rates are dropping. Investors are taking their stock market profits and once again looking at real estate.
That's the most recent observations from Knight Frank Vietnam, a branch of London-based Knight Frank.
Cheaper money is the key to a real estate recovery in Vietnam. A steady decline in interest rates to take place over the next 12 to 18 months would bring some certainty and stability back to the market, the brokerage firm believes.
"We are still receiving strong interest from foreign investors who see there is a window of opportunity," the brokerage states. "However, the obstacles and hurdles remain the same."
The Ho Chi Minh City Real Estate Association agrees high interest rates and unreasonable property prices remained challenges for a breakthrough in the market.
Most home prices are still out of reach for many residents. The market still does not have small-sized apartments that average-income earners can afford, according to the Vietnam Real Estate Association.
Regulations stipulate that commercial apartments cannot be smaller than 45 square meters (484 square feet). For low- income families, they cannot be less than 30 square meters. One square meter equals 10.76 square feet.
Ha said the minimum apartment space in New Zealand was 30 square meters. It is 25 square meters in Thailand and 15 square meters for a two-resident unit in Hong Kong.
Le Xuan Nghia, vice chairman of the National Financial Supervisory Commission, is confident that over the next four or five months the property market will begin to see a recovery, thanks to efforts from the Government to support businesses, including tax reductions and abolition of the fines on overdue loans.
Like the U.S., Vietnam's bad-loan-debt problem has hindered a market recovery. Bankers continue to balk at signing off on many property loans.