---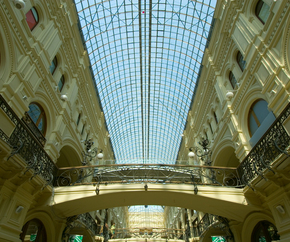 Cushman & Wakefield is bullish on Russia.
The world's largest privately-held commercial real estate services firm based in New York City, predicts Russia will become the largest consumer market in Europe by the end of 2013 "If retail turnover will keep at current levels of 5% annual growth."
Maxim Karbasnikoff, Head of Retail Services, Cushman & Wakefield, made that forecast at the recent three-day 2012 MAPIC conference in Cannes, France. MAPIC is an international retail real estate show held each year in November.
"Despite the turbulent economic situation, Russia shows positive GDP growth and consumer spending, which results in positive retail turnover," says Karbasnikoff. "Russia is a big country and each city has its own retail development path.
"What we see now is the growing importance of cities which previously had never been on the developers' radar."
According to Cushman & Wakefield Research, quality retail developments are steadily replacing low quality retail space. Russia's retail property market has "a growing number of projects in the pipeline," Karbasnikoff notes.
Quality retail stock consists of more than 500 shopping centers, with a total gross leasing area (GLA) of 15,4 million square meters as of Oct. 1, 2012. About 100 projects are under construction in a retail pipeline that totals 4.6 million square meters. One square meter is about 10.76 square feet.
Also unveiled at MAPIC was Cushman & Wakefield's "Retail Space Across Russia," a report exploring retail real estate of the 30 largest cities of Russia. The report calls the retail sector "one of the key drivers of the Russian economy"
The report details retail trade turnover, shopping center supply, pipeline and presence of key international and Russian retail chains.
According to GFK Geomarketing, Russia currently is the largest market in Europe with the third largest retail turnover in EMEA (Europe, the Middle East and Africa) after France and Germany.
The Cushman & Wakefield report states the average supply per 1000 inhabitants in Russia totals 95 square meters, well below the European average of 247 square meters.
International and domestic retailers present in Russia seek new regions with demand for quality space rather than location, according to the report. Further expansion is limited by a shortage of quality retail stock. New quality shopping centers typically open in new cities and regions where retailers are eager to expand.
Krasnodar, a city in South Russia, leads in terms of retail stock per 1000 inhabitants (763 square meters per 1000 inhabitants). The city has kept this position for two years, with constantly growing retail stock.
Recently opened projects include Krasnaya Ploshad (third phase, 50,000 square meters GLA) and OZ Mall (169,000 square meters GLA).
The report states that in contrast to Moscow, which contains 13 high streets and 107 quality shopping centers and where the retail stock for 1000 inhabitants equals 303 square meters, Cushman & Wakefield estimates the future potential of Krasnodar will be moderate, due to oversupply of quality stock and few reasons for active growth of consumer demand.
Retail quality stock rose sharply in Samara, pushing the largest city of the Volga region into second place by supply (442 square meters per 1000 citizens), with MEGA Samara grand opening in 2011 (GLA 102,000 square meters).
St. Petersburg continues keep its leading positions in terms of quality retail stock (437 square meters per 1000 inhabitants) with large openings in 2011-2012 including Leto (GLA 80,000 square meters ) and RIO (GLA 52,500 square meters).
According to the report, Irkutsk and Tula have large retail pipelines, while there is potential demand for quality retail space in Kemerovo and Novosibirsk subject to stable consumer activity. Khabarovsk and Vladivostok have made their first steps to the quality retail market.
The smallest new openings were recorded in Kazan and Chelyabinsk. The Chelyabinsk market was actively developed in 2011 with three shopping centers totaling 150,500 square meters of GLA opening within a year. The market was later largely saturated and there are currently no new projects announced.
"We see that cities where the retail property market was booming for the last two years has reached a saturation point and new development has slowed down," comments Lada Belaychuk, Deputy Head of Research at Cushman & Wakefield "The next few years retail growth will move to cities of Sibiria and the East of Russia"
Belaychuk noted he Russian retail property market is still emerging but gradually moving into a developed market. This is supported by new formats, including outlets and retail parks which are being introduced and launched not only in Moscow, but also in other cities.
For example, the development of retail parks has been announced in the Moscow region, Chelyabinsk, Yekaterinburg, Perm and Tyumen.
Sign Up Free | The WPJ Weekly Newsletter
Relevant real estate news.
Actionable market intelligence.
Right to your inbox every week.
---
Real Estate Listings Showcase