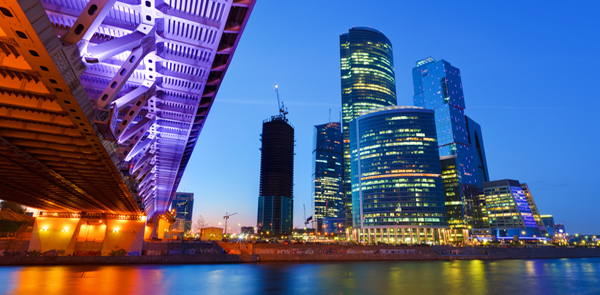 Moscow's Commercial Market is Hot, Says Cushman & Wakefield Report
Moscow - a hot commercial real estate market? Who would have thought it? But yes, Cushman & Wakefield research states that is a fact.
Another research report from New York City-based Real Capital Analytics shows Moscow remains the third largest investment market in Europe, following London and Paris.
"Being stable and substantial, the Moscow property market is the most attractive location in Russia for large international investors," according to the most recent Cushman & Wakefield data.
"The city remains the No.1 market for office, warehouse and Industrial investments, whereas the competition in the retail and hospitality sectors from large regional cities, especially from St. Petersburg, has become more tangible," the brokerage states.
Despite that strong commendation, total commercial property investment in Moscow for all of 2012 will be 5% less than it was in 2011 - about $7.2 billion (5.5 billion euros).
Total transactional volume in Moscow is expected to top $6 billion (about €4.6 billion).
The retail sector is expected to contribute more than 45% of the total volume. The office segment's share will be about 30%; hospitality, about 15%; and warehouse and industrial, about 7% combined..
.
Cushman & Wakefield research finds investors are again focused on the most developed and stable markets, Moscow and St. Petersburg, and are more averse to riskier regional projects.
Real Capital Analytics ranked St. Petersburg, the second largest property market in Russia and 14th among the top European property markets in 2012.
Real Capital Analytics finds that although there is strong investment interest in St.Petersburg, the city suffers from a lack of investment quality properties which limits its investment capacity.
Investment volumes in St. Petersburg are expected to remain modest, at about $800 million (about €618 million) annually over the next few years.
Regional markets showed further contraction in 2012 with $ 75 million (about €58 million) of investments, 55% down compared to 2011 and almost 75% down from 2010.
"As the preferences of investors move towards more liquid markets, we do not expect significant changes in regional markets in 2013," Cushman & Wakefield notes.
Capitalization rates for prime property were stable throughout 2012 and are at 8.75% for offices, 9.25% for shopping centers, 9.5% for hospitality and 11% for warehouse and industrial properties.
Capitalization rates in St. Petersburg market are 75 basis points to150 basis points higher. Regional markets' numbers show a premium of 150 basis points to 350 basis points. The capitalization rates for trophy assets are 40 basis points to 50 basis points lower.
Cushman & Wakefield doesn't expect any major changes in rates in 2013.
"We see a return of some normalcy to the investment market with both large Russian and foreign investors playing important roles," says Tom Cashel, partner and head of Capital Markets at Cushman & Wakefield Moscow.
"In 2012, retail was probably the most sought after asset class given its proximity to the consumer while office remained strong and industrial was also attracting attention.
"Banks were lending to good owner/operators and developers were also able to tap funding."
Cashel notes, "Barring any systemic events, as the global economy continues its recovery, we will see growing interest in the Russian real estate market where yields are healthy and opportunities abound."
He adds, "Our expectation is that growth in total investment volumes will push 2013 results to exceed those we expect this year."