$1.6 Billion Redevelopment Planned at London's South Bank Sector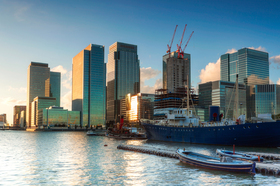 Quatari Diar and Canary Wharf Group Plc, whose London history dates to the 1500s, are joint-venturing a $1.6 billion (one billion British pounds) redevelopment of London's South Bank area where the noted Shell Center Tower will continue to be the centerpiece of the 880,000-square-foot undertaking. Completion is tentatively scheduled for 2019.
The project is expected to include 800,000 square feet of office, 80,000 square feet of retail and 790 residences. The developers contracted with Royal Dutch Shell in July 2011 to redevelop the Shell Center site. They each spent 150 million pounds to take the 5.25-acre site on a 999-year lease. Shell remains the site's owner. One British pound equals $1.61 U.S.
---
Macquarie Betting on Mexico With $1.15 Billion Stake
Macquarie Group of Sydney, Australia, one of the world's biggest commercial real estate investment organizations, has launched a $1.15 billion real estate investment trust on the Mexican stock exchange. Shares were priced at 25 pesos ($1.96). Macquarie Mexico Real Estate Management said the offering raised MXN14.72 billion. One peso equals 7.8 cents U.S.
Macquarie said the REIT, known in Mexico as a Fibra, expects net proceeds of MXN13.57 billion if over-allotments are exercised. The trust will use the money to acquire its initial portfolio of 244 industrial properties spread over 21 cities in 15 Mexican states. The properties had an average occupancy rate of 91% at the end of September.
The properties are being acquired from real estate firms GE Capital Real Estate Mexico and Corporate Properties of the Americas.
---
California Apartments Go for $148 Million
Willow Lake Apartments, a 23-year-old, 508-unit community in San Jose, CA has been sold for $148 million or about $291,000 per unit. The Sobrato Organization of San Jose was the seller; Essex Property Trust of Palo Alto, Ca, the buyer.
"With 12.5 percent rent growth over the last 12 months and an average occupancy of 96,4 percent, San Jose's market fundamentals are strong and getting stronger," says Stan Jones, an executive vice president investments at Institutional Property Advisors (IPA).
"Rental demand here is now at one of the highest levels since 2001, resulting in a year-over-year vacancy decline of 60 basis points." IPA brokered the sale. The Saglimbeni brothers of IPA, Philip and Sal, assisted on the transaction.
---
Brooklyn's Canarsie Plaza Demands $124 Million
The New York City office of HFF brokered the $124 million sale of Canarsie Plaza, a one-year-old, 96 percent-leased retail property in the Canarsie neighborhood of Brooklyn, NY. Acadia Realty Trust of White Plains, NY was the seller; Cole Real Estate Investments of Phoenix, AZ, the buyer.
HFF also arranged a $75 million, 10-year, fixed-rate loan through Pittsburgh, PA's PNC Bank for the buyer.
---
Historic Million-SF Tower in Chicago Sold for $97 Million
231 South LaSalle, a 23-story, 1.03-million-square-foot office and retail structure occupying a full city block in Chicago's financial district, has yielded a sale price of $97 million. Berkeley Properties of Lebanon, NJ purchased the 96.6-percent-leased property from Gramercy Capital Corp. and Garrison Investment Group, both based in New York City.
The building also has 24,839 square feet of ground-floor retail. The structure was built in 1924 as the Illinois Merchants Bank.
---
Prudential Fund Sells Virginia Office Building for $85.6 Million
A fund advised by Newark, NJ-based Prudential Real Estate Investors has sold the three-building, 337,228-square-foot, 100 percent leased Class A Orbital Sciences Campus office complex in Sterling, VA for $85.6 million. Select Income REIT of Newton, MA bought the 11-year-old property. Orbital Sciences Corp. occupies the entire campus..
---
Arizona Apartments Commands $30.85 Million Sale Price
Mountain Park, a 240-unit, 18-year-old, 230,560-square-foot multifamily community in suburban Phoenix, AZ has been sold for $30.85 million or about $134 per square foot. Marcus & Millichap real Estate Investment Services Inc. brokered the sale but did not disclose the names of buyer and seller.
---
Miami Beach Walgreens Fetches Record $30 Million Tag
A 22,857-square-foot Walgreens drugstore on legendary Collins Avenue in Miami Beach, FL has been sold for $30 million or about $1,312 per square foot. The overall price is the second highest paid for a drugstore property in the U.S. this year and the highest price attained by a net-leased asset in Miami Beach in 2012, according to Sean Shahar Ziv, an associate in Marcus & Millichap's San Diego, CA office. Ziv represented the seller, Trans World Entertainment Corp. of Albany, NY. An undisclosed international investor paid all-cash for the property.