---
(TOKYO, JAPAN) -- It's official: Tokyo is the most expensive office market in the world. The Japanese city's Inner Central District replaced London's West End at the top of the tony list.
Moscow is the third most expense followed by Tokyo's Outer Central District and Hong Kong's Central Business District.
The new rankings were made by CB Richard Ellis Group, Inc. (NYSE:CBG), Global Research and Consulting's semi-annual Global Office Occupancy Costs survey. CBRE tracks office occupancy costs in more than 170 cities around the globe.
Dr. Raymond Torto, CBRE's Global Chief Economist, says financial centers have been "most significantly affected by declining occupier demand and, as one would expect, registered the most material decreases in office rents."
Torto says in many cases, major global office markets have seen occupancy costs fall by 20% or more over the last 12 months.
Across the 170 cities as a whole, office occupancy costs fell 2.8% over the 12 month period ending March 31, 2009 (on an un-weighted average basis) compared with an increase of 8.0% in the 12 month period ending September 30, 2008 Singapore had the largest year over year decrease in occupancy costs with a drop of 34%.
Some markets did record increases in costs over the last 12 months but these markets--such as Charlotte (U.S.), Marseille (France) and Perth (Australia)--are "very much the exception rather than the rule," says Torto.
"Generally, these increases are either due to exceptional local market conditions, such as the completion of a top quality new building in a market where none was available previously, or simply that occupancy costs remain above the level of a year ago despite the fact that they are now falling."
Such situations illustrate the uneven way in which the economic downturn is affecting different markets around the globe, according to the CBRE report.
"The great global recession has clearly taken its toll on the world's office markets, particularly those with significant concentrations of financial industry employers," says Torto.
"The most expensive office markets, as measured in dollars, are considerably less expensive than a year ago and occupiers are now in a strong position to procure prime space at attractive costs."
For instance, Torto says, a year ago office space in London's West end was nearly $300 per sq. ft., while today that space goes for $172 per sq. ft.
MARKET BREAKDOWN BY GEOGRAPHIC AREAAsia-Pacific
Tokyo (Inner Central) was the world's most expensive market with an occupancy cost of $183 per sq. ft. Hong Kong (CBD) was the fourth most expensive global market with occupancy costs of $150 per sq. ft. Tokyo (Outer Central) and Mumbai were the other two Asia-Pacific markets in the top 10 most expensive cities roster.
Singapore, while experiencing the largest drop in occupancy costs, was not alone among Asia-Pacific financial centers in seeing a sharp decline. Hong Kong, Tokyo and Mumbai posted large drops in office occupancy costs.
Conversely, Perth had the second fastest growing occupancy cost during the past 12 months with costs rising 22%, although it's important to note that the increase took place in 2008.
Europe
London's West End was the world's second most expensive office market at $172 per sq. ft. and Moscow was a close third with occupancy costs at $170 per sq. ft. Dubai, Paris, the City of London and Dublin all were in the top ten most expensive markets.
Twelve cities in the region posted doubled digit declines in office cost. Moscow had the sharpest decline in the region followed closely by Oslo (Norway), while occupancy costs in London's West End, previously the most expensive market in our report, fell 20%.
In addition to Marseille, Durban (South Africa) was among the world's top five markets with occupancy cost growing by 18% during the past 12 months.
Americas
The most expensive office location in the Americas is still New York's Midtown with occupancy costs of $68 per sq. ft. However, that market's occupancy costs declined 32%--the second steepest decline in the global survey.
While occupancy costs in New York's Midtown are high for North America, it ranked just 21st globally. Boston's suburban market posted a decrease of nearly 30%, putting that market in fourth position in the top decreases chart in the report.
São Paulo (Brazil) posted the Latin American region's highest occupancy costs at $57 per sq. ft. and is ranked 33rd globally. Latin America has held up better than the rest of the world with only three cities posting small negative growth rates, the worst being Mexico City with a 5.6 percent decrease. Nine markets in North America posted double digit declines.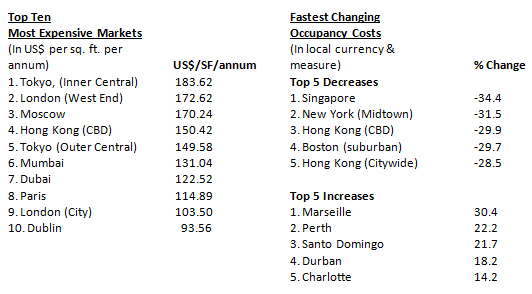 Notes
:
1. Global MarketView/Office Occupancy Costs is a survey of office occupation costs for prime office space in more than 170 cities worldwide.
2. The latest survey provides data on office rents and occupancy costs as of March 31, 2009
3. The Fastest Changing rankings are based upon occupancy costs in local currency and measure. The Most Expensive ranking is based upon occupancy costs in US$ per sq. ft. per annum.
4. The figures given in this release refer to occupancy cost. This represents rent, plus local taxes and service charges. The occupation cost figures have also been adjusted to reflect different measurement practices from market to market.
Top 50 Most Expensive Office Markets as of March 31, 2009 (converted to U.S. dollars)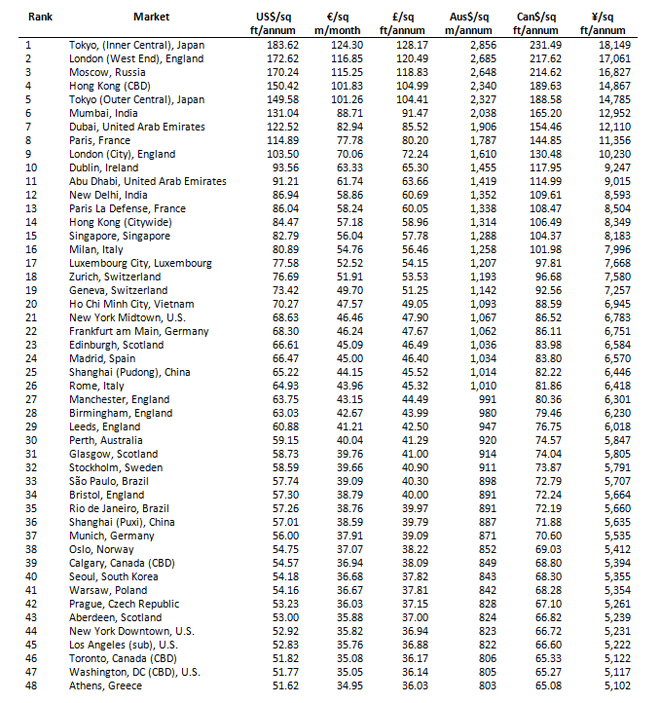 ---
Sign Up Free | The WPJ Weekly Newsletter
Relevant real estate news.
Actionable market intelligence.
Right to your inbox every week.
---
Real Estate Listings Showcase