---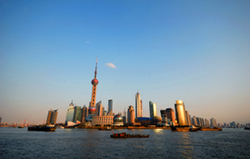 Repeating what they did in 2006, the Chinese government is limiting the purchase of commercial and residential real estate by foreigners.
The new regulations, announced Monday on the government's website, hopes to slow down real estate speculation and control inflation.
The
Wall Street Journal
reports from Shanghai the effect of the new regulations would likely be small, since foreigners make up a tiny proportion of China property sales.
In a joint statement with the Ministry of Housing and Urban-Rural Development, the State Administration of Foreign Exchange said foreign companies can purchase only commercial property that they are planning to use themselves.
It also reinforced existing rules to limit foreign individuals to buying one residential unit per person for self-use.
Foreign investments accounted for 0.8% for property development in China last year, data from the National Bureau of Statistics showed.
The foreign-exchange administration, which regulates China's currency and is known as SAFE, didn't offer additional details or examples. Analysts said the restrictions on commercial properties probably pertain to companies that want to own and occupy buildings.
Inflows of what's known as hot money have complicated the central government's efforts to tame inflation and lending in order to curb its strong growth rates and contain inflation, the WSJ reports.
Hot money is speculative capital that evades regulators in China, which keeps tight controls on its currency.
SAFE last week announced measures to further crack down on hot money inflows, with senior officials in the country expressing concern that the U.S.'s loose monetary policy might send excessive amounts of money into emerging markets.
China's consumer price index rose 4.4% in October, accelerating from September's 3.6% rise to its highest level in two years.
Overall property prices in China, including residential and commercial, rose 0.2% in October from September, following a 0.5% increase in September.
Prices rose 8.6% in October from a year earlier, down from September's 9.1% increase.
Though the year-on-year rise in October prices was the sixth straight month of falling growth, the slowdown may be too gradual for policy makers.
In 2006 when the government also issued new purchase regulations on foreign capital, officials said only foreigners who had lived in China for more than one year could buy property. The government capped the purchase at one apartment for self use.

Liu Li-Gang
Both rules are repeated in the current statement, though the apartment rule hasn't been effectively enforced, according to the WSJ.
Liu Li-Gang, head of China economics at Australia & New Zealand Banking Group, told the WSJ the new government measures could damp some demand in China's property market, especially the commercial property sector.
"Targeting foreign investors is the easiest administrative means for the Chinese government to undertake because they represent a very small interest group," Liu said. "But when it comes to curbing hot money inflows, the measures won't be that effective."
Wang Tao, economist at UBS, also said most of China's capital inflows stem from Chinese companies' offshore units funneling money into China.

Wang Tao
"This latest measure is part of a basket of policies aiming to cool the property market," Wang told the WSJ.
It is still unclear if foreign real estate investment trusts or property developers will be hurt by the rules on commercial property, UOB KayHian analyst Johnson Hu told the WSJ.
"I don't think the government wants to kill off foreign direct investment in this segment, but is really trying to clamp down on illegitimate inflows into the property market," said Hu.
Xia Bin, a central bank adviser, last week called for the authorities to investigate hot money inflows as some capital has been unlawfully channeled into the country's stock market and the property sector.

Xia Bin
"Policy makers are trying to put on the brakes on capital inflows, similar to what had been announced back in 2006," Remy Chan, managing director of CBD Commercial Investment Management, told the WSJ.
"How these rules are implemented is another matter, and if these rules are followed to the letter, there could possibly be no foreign investment in commercial property at all, but I have my doubts.
"The mature players will always find exceptions."
---
Sign Up Free | The WPJ Weekly Newsletter
Relevant real estate news.
Actionable market intelligence.
Right to your inbox every week.
---
Real Estate Listings Showcase