---
South Korea Buys Trophy Sony Center Berlin for Estimated $767 Million
Investors Favor Retail in Brightening European Commercial Market
Law Firms' Real Estate Practices Groups Gear Up to Tackle Heavy Volume of Loan Defaults
Japanese Billionaire Cited for 109 Violations Among his Honolulu Holdings
Manhattan's Office Market Vacancies Dropping but Still Higher Than Last Year
Trophy Berlin Office Building Sold for Estimated $767 Million
South Korea's National Pension Service has signed a purchase and sale agreement for Sony Center Berlin, a 1.23 million-square-foot (115,000 square meters), Class A property, according to
PropertyFundsWorldwide.com
.
The sellers are Berlin-based Corpus Sireo Asset Management, The John Buck Company of Chicago and Morgan Stanley's real estate fund MSREF VI International of New York City.
Terms of the deal were not disclosed, but Bloomberg and the London
Guardian.co.uk
separately estimated the price as $767 million. The price equates to about $624 per square foot. (1 square meter = 10.7639104 square feet).
Sony Center is located at Potsdamer Platz in the heart of Berlin and consists of eight buildings. It serves as headquarters for international tenants such as Deutsche Bahn, Sony and Sanofi-Aventis.

Christoph Reschke
National Pension Service was advised by Houston, TX-based Hines, which will also be responsible for the property's ongoing asset management.
The sellers were advised by London-based BNP Paribas Real Estate and Morgan Stanley.
"We are happy to announce the first acquisition in continental Europe with the most prominent commercial property in Germany, if not Europe," says Jayme Younghee Han, manager at National Pension Service.
"The purchase of this prime asset is an appropriate way to execute NPS' acquisition strategy in Europe. We are proud to advise NPS on signing this deal," says Christoph Reschke managing director of Hines Germany.
---
European Commercial Market Seeing Increased Investor and Tenant Confidence
Cushman & Wakefield saw continuing demand in the European commercial property market in the first quarter of 2010, according to
PropertyWire.com
. Foreign buyers were particularly active.
Overall, analysts say the market experienced an all-around improvement in the early months of 2010. Even so, issues such as an increasingly polarized market bar a full recovery,
PropertyWire
reports.
For example, while the United Kingdom, Turkey and Sweden saw modest rental growth, Bulgaria, Ireland, Slovakia, Romania and Greece had a notable decline.
Retail accounted for 43% of all trading in the first quarter, up from 30% last year and at its highest in at least 10 years.
Germany overtook the United Kingdom to become the largest retail market over the quarter.
A factor behind the increased activity in the retail sector was the modest increase in availability of affordable debt. This has led to the increased trade of larger lots and shopping center portfolios, according to Cushman & Wakefield.
Retail is likely to be strongly favored as a low risk, low volatility asset with good income growth through careful management. Many investors also expect a more rapid return of rental growth.
"We continue to expect a strong outturn for trading volumes this year, with activity increasing around 50% to €110 billion," according to David Hutchings, head of European Research at Cushman & Wakefield.
"Europe's three largest markets, the UK, Germany and France, will see the bulk of this but other larger western markets will be buoyant, such as Italy and the Netherlands," Hutchings says.
---
Heavy Volume of Loan Defaults Trigger New Business for Law Firms
After seeing a decline in real estate work between 2008 and 2009, law firms across the country are gearing up for anticipated rush of new business this and also through the next three years.
At a recent two-day American Bar Association symposium in Philadelphia, law firm representatives were told more than a trillion dollars in commercial real estate loans will come to their maturity date by 2014.
Defaults doubled in 2009 and aren't expected to peak until 2011, according to the
Legal Intelligencer
which covered the symposium.
Credit Suisse recently predicted it would take special servicers five-and-a-half years to resolve the current backlog of defaults.
In looking at 10 of Pennsylvania's largest firms where data were available year-over-year, real estate work made up a greater percentage of gross revenue in 2009 than in 2008 in only three of them, according to the Intelligencer.
Three others were flat and four saw declines in the percentage of gross revenue from real estate. The percentages come from numbers collected by The
Legal Inteligencer
's affiliate, The American Lawyer.
The more telling figures are the raw dollar amounts of gross revenue from real estate work.

Roger Winston
The 10 firms -- Ballard Spahr, Morgan Lewis & Bockius, K&L Gates, Cozen O'Connor, Blank Rome, Reed Smith, Duane Morris, Pepper Hamilton, Drinker Biddle & Reath and Buchanan Ingersoll & Rooney -- brought in a combined $331 million in revenue from real estate work in 2008 compared to $306 million in 2009.
Those figures, which show a 7.5 percent decline, include the firms whose real estate work increased year-over-year.
Roger Winston, chairman of the American Bar Association's Real Property section and a partner with Ballard Spahr in Bethesda, MD, said more than 500 registered for the two-day symposium -- the most there have been in 10 years.
He said people are craving the most up-to-date information. The challenge in designing this year's symposium was finding the "experts" to talk about what is going on, Winston said.
---
Honolulu Clamps Down on Japanese Billionaire's Unkempt Luxury Properties

Genshiro Kawamoto
Even a Japanese billionaire like Genshiro Kawamoto pays attention to Honolulu city planning officers when they come calling.
Facing thousands of dollars in fines, Kawamoto has started cleaning up several of the properties cited for having overgrown grounds and building violations involving health and safety issues, according to Honolulu television station
KITV
.
It took the city threatening to file tax liens to get the real estate mogul to finally start complying with city ordinances and correcting the violations.
"About 45 days ago they responded almost immediately, and it wasn't long after that they worked with our corporation council to get them closed," Mike Friedel of the city's Department of Planning and Permitting, told the TV station.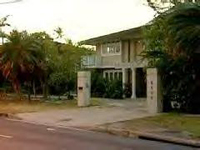 Of the 109 violations Kawamoto was cited for his Kahala and Hawaii Kai properties only eight remain. The problems ranged from overgrowth on the grounds to building violations, as well as health and safety issues.
This week Choi International began offering seven of Kawamoto's Kahala Avenue properties for sale. One of them is already in escrow, the TV station reported.
The list included 4607 Kahala Avenue, which according to the city has two violations that have not yet been resolved.
"If he transfers the property and we don't have a lien, and he is successful in the transfer, we will immediately issue a citation to the new owner who will inherit the violation, Friedel said.
The parcel is selling for more than $17 million. Two other Kahala Avenue properties that were cited have had their problems corrected.
It is not clear if Kawamoto will put up other real estate on the market, including the three homes that he turned over to three homeless families, essentially rent-free, the TV station reported.
Kawamoto could not be reached for comment.
He has also had complaints about some of the overgrowth on his land in Windward Oahu. Families say they have been approached by the tycoon and that he appears to be taking steps to correct the problems,
KITV.com
reports.
---
Manhattan's Office Market Vacancies Down for Fourth Straight Month
April leasing activity improved in Manhattan's prime office space market but the sector is still down from April 2009, according to Cushman & Wakefield's recent market analysis.
The total Manhattan office vacancy rate dropped to 11.5 percent in April --- the fourth monthly decline in six months. Vacancy stood at 11.6 percent from January through March of this year.
However, despite the recent decreases, the Manhattan office vacancy rate is up 1.2 percent from this time last year.
March and April of 2010 were the strongest months for new office leasing activity in Manhattan since June and July of 2007. For the second consecutive month, new leasing activity in April totaled 2.2 million square feet.
All three Manhattan submarkets, Midtown, Downtown and Midtown South - the first, fourth and fifth largest office markets in the United States - experienced decreases in vacancy in the month of April.
The vacancy rate in Midtown South declined to 9.8 percent, the lowest in the nation, from 9.9 percent at the end of March. For the same time period, the Downtown vacancy rate declined to 9.9 percent from 10.0 percent, and the Midtown vacancy rate declined to 12.5 percent from 12.6 percent.

"We're seeing two key factors at work in the market today," said Joseph R. Harbert, Cushman & Wakefield's chief operating officer for the New York Metro Region.
"One is a continuing trend on behalf of office tenants to lock-in value at today's market rental rates, and the other is that we appear to be in the very early stages of an economic recovery that is restoring business confidence and paving the way for long-term leasing decisions."
Prior to the vacancy rate decline in April, Manhattan experienced vacancy rate declines in February 2010, as well as December and November 2009.
"Despite the state of the broader economy, the Manhattan commercial real estate market has been relatively resilient over the past year," said Kenneth J. McCarthy, Cushman & Wakefield's Managing Director of Research for the New York Metro Region.
According to McCarthy, for the 12 months ended April 2010, more than 5.9 million square feet of direct space - or space available directly from landlords - has been added to the market as available inventory.

Kenneth J. McCarthy
During the same time period, McCarthy said, sublease space -- space available from tenants with existing leases -- has decreased by 1.1 million square feet.
Sublease space now accounts for 22.7 percent of all available space, down substantially from a peak of 28.2 percent in April 2009.
At the end of April 2010, overall average asking rents in Manhattan registered $54.98, a decline of approximately 25 percent from their peak of $72.97 in the third quarter of 2008.
---
Sign Up Free | The WPJ Weekly Newsletter
Relevant real estate news.
Actionable market intelligence.
Right to your inbox every week.
---
Real Estate Listings Showcase