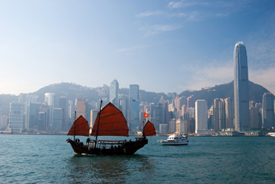 UPDATE:
China's Premier Acts to Avert Housing Bubble
Chinese Premier Wen Jiabao is not happy with his brethren in the real estate industry. Land speculation continues. Single-family housing prices are rising sharply. And affordable housing for the growing working population is shrinking.
So the Premier this week announced he will take even sterner measures to bring shelter pricing back to a reasonable and affordable level.
He wants to avert a housing bubble and he wants to do it before his term ends in early 2013.
China is building more affordable housing for the country's ultra-poor, Reuters reports. The target next year is 10 million units, up from this year's plan of 5.8 million. The country has completed 3.7 million units in 2010 so far, Wen said.
Reuters reports He Qi, deputy secretary-general of the China Property Association, said "the issue now is how can we make the sector develop in a sustainable and healthy way."
"Until now, the measures have not been implemented well enough, and we will reinforce our efforts in two ways," Wen told a nation radio broadcast.
First, China will build more affordable housing. Second, China will legislate harsher monetary measures and stricter controls over land sales to curb speculation.
Compounding Wen's dilemma is that about 1.2 billion square meters (about 13 billion square feet) of residential property space now under construction will hit the market in the coming few months.
That is about 45 percent more than the total sold so far this year, enough to tip the market into relative over-supply, Reuters reports.
To cope with their already cash crunch, developers are expected to cut prices drastically.
Reuters reports Li Shaoming, an analyst at China Jianyin Investment Securities in Beijing, estimates that listed developers had enough cash to sustain operations for 10 months if transaction volume stopped growing. If it slowed, their financial cushion would deteriorate quickly, he added.
Wen's announcement came a day after the Central Bank raised interest rates by 25 basis points on Christmas Day, its second time in just over two months.
Reuters reports analysts also expect Beijing will start a trial program of a long-awaited property tax in 2011 in a few key cities, including Shanghai and Chongqing. That move will increase the cost of owning a residential unit.
Economists polled by Reuters expected a further 50 basis points of rate rises in the first half. That will increase the cost of home purchases by 5 percent, according to calculations by China Real Estate Index System, a leading private research house.
"The first half of next year will be a hard time for the property sector," Chen Dongqi told Reuters. He is deputy chief of the Macroeconomic Research Institute under the National Development and Reform Commission, China's powerful economic planning agency.
Two other analysts expect property prices will fall in the first six months of 2011, though by less than 10 percent, Reuters reported. They are Liu Shiqing and Xu Shengli of Essence Securities in Beijing.
"Under the impact of the macro policies, shares in developers face high risks in the next two quarters," they said in a note to clients.
"For most companies, liquidity conditions will get worse next year," Feng Lun, chairman of Vantone Group, a leading Chinese property firm, told Reuters. "For the residential housing segment, we will see more companies exit the industry as a result."
---