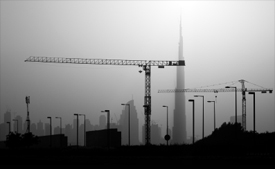 Dubai Real Estate Bounce on the Way, Colliers Data Show
(DUBAI, U.A.E.) -- Take it from Colliers, Dubai real estate prices and development are rebounding.
The latest numbers from Colliers' Dubai House Price Index indicate real estate prices in Dubai have risen almost 7 percent in the third quarter of this year from the previous quarter.
Transactions activity, too, increased by 64 percent in the third quarter.
"The result indicate a bounce in the market and are an indication of an excellent recovery," says Tej Kohli, a real estate investor and founder of Ozone Real Estate.
Kohli predicts prices will stay steady into 2010 as they move towards "more reasonable levels."
He says in his Ozone Real Estate newsletter, "Now is the time to strike the iron as the market enters a new stage that will help the transition into reformation."
Global visitor numbers are up four percent for the first half of 2009 versus the same 2008 period.
To support his vision, Kohli cites a host of launches and openings coming up within the United Arab Emirates. For example, by mid-December of this year, a gala opening at the world's tallest tower, Rose Rayhaan, is scheduled along Shaikh Zayed Road in Dubai. The Rose Rayhaan's 72 stories measure 1,092.5 feet in height (333 meters).
Also by year end, the five-star, renovated Jebel Ali golf Resort and Spa is set to re-open. High-end hotels like the Conrad Hotel Dubai and the Ritz Carlton are also on track for an early 2010 opening.
By mid-2010, the Palazzo Versace Resort and new hotels opening in the crescent-shaped The Palm Jumeirah, including the five-star Ottoman Palace by Rixos and the five-star Royal Amwaj Resort & Spa also have planned openings.
The long-awaited Jumeirah Golf Estates will start operating in early 2010 as "Dubai's prime golf-themed real estate evolution," says Kohli.
---