---
Amari Investing $45M in Rebranding 11 Thailand Assets
Mumba's Oberoi Talking With Max India on Selling Stake
Seoul Business Inns Cut Rates to Compete With 5-Stars
Tourist Count Improves in Portugal But Revenue Still Down
Canadians Hit Hard on Occupancy, RevPar and Rates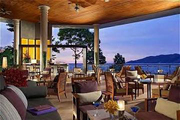 (BANGKOK, THAILAND) --
Amari Hotels and Resorts, a 44-year-old global chain, is investing $45 million (1.5 billion baht) in rebranding, refurbishing and modernizing its current 11 Thailand hotels. The work is scheduled for completion in 2011.
Amari CEO Peter Henley says the big changes will be with logo, hotel design and management. Henley tells the Bangkok Post Amari "sees high potential" to expand its brand to the Asia-Pacific and especially to emerging markets like India, China, Indonesia and Vietnam.

He calls the Middle East and Australia "also interesting markets" for Amari.
Amari's renovations are beginning at the Amari Watergate Bangkok and Amari Coral Beach Phuket and should be finished by year end 2010, Henley says. Amari is budgeting 60 million bath ($1.8 million U.S.) for marketing and promotion.
(1 Thai baht = 0.029904 U.S. dollars)
---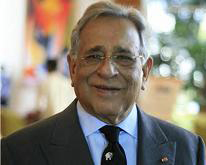 P.R.S. Oberoi
(MUMBAI, INDIA) --
P.R.S. Oberoi, chairman, EIH Ltd., is talking with Analjit Singh, the controlling principal in Max India (MAXI:BO), a healthcare services and insurance firm, on selling a 17 percent stake in EIH-owned Oberoi hotel chain for a rumored $270 million (12.5 billion rupees).
However, Oberoi tells the Economic Times and Reuters the deal is far from done. The Oberoi family owns about 43 percent of EIH. The rumored transaction boosted EIH shares (EIHO:BO) more than 7 percent on the Bombay/Mumbai Stock Exchange.
The Times also reports ITC, a diversified tobacco firm (ITC:BO) that also operates hotels and owns 15 percent of EIH, is also reviewing the possible stake sale. The paper reports ITC principals are considering raising its ownership in EIH to 20 percent.
---
(SEOUL, SOUTH KOREA) --
There is open warfare today among Seoul's hoteliers. Mid-price to low-priced business hotels operated by major franchises are drastically slashing room rates to compete with the larger five-star inns.

The Korea Times reports hotels like the eight-story, 284-room Ibis, operated by the Ambassador Group, charges 150,000 won per night ($130 U.S.), about half the rate at the luxury Lotte Hotel Seoul.
Hotel publicists say the rooms are smaller than their five-star sisters, clean and with few amenities. Ambassador plans to open a similar-concept hotel in Tokyo next year.
Even Marriott International has entered the budget-rate arena war with its just opened 283-room Courtyard by Marriott Seoul Time Square. The hotel is located in Time Square, the newly established shopping district in Yeongdeunpo. Promotional rates for a limited period are 99,000 won ($86 U.S.)
According to Seoul hospitality sources, the budget hotels are operating at more than 70 percent occupancy, "far above their luxury rivals who haven't fully recovered from the aftermath of influenza A(H1N1), reports the Times.
Local hospitality sources say about 65 percent of guests at Seoul's budget-priced hotels are business-oriented and about 30 percent are tourists. Japanese tourists specifically take advantage of the lower-priced rooms after shopping tours in Myeong-dong, the heart of Seoul's retail district.
(1 South Korean won equals 0.000861 U.S. dollars)
---
(LISBON, PORTUGAL) --
Tourist volume at Portugal hotels in the first eight months of 2009 totaled 8.96 million visitors, about 4 percent lower than a year, according to the National Statistics Institute. Revenue fell 10.5 percent to 1.23 billion euros ($U.S. $1.82 billion). (1 Euro = 1.49 U.S. dollars)
August revenue, the last audited month, dropped 6 percent from August 2008 to 259 million euros ($386 million U.S.)
Foreign tourist volume in August fell 4 percent to 847,000 but was an improvement from declines of 6.6 percent in July and 9 percent in June.
August also saw a 0.4 percent increase in the total number of hotel guests to 1.69 million.
Tourist-related data in Portugal is watched closely as related revenue accounts for over 10 percent of the country's economy, according to the National Statistics Institute.
---
(HALIFAX, NS) --
Last week wasn't a banner period for the Canadian hotel industry.
Smith Travel Research Inc. reports that In year-over-year measurements, the industry's occupancy decreased 5.5 percent to end the week at 65.0 percent. Average daily rate dropped 5.1 percent to finish the week at CAD$123.28. Revenue per available room for the week decreased 10.3 percent to finish at CAD$80.15.
Among the provinces, Nova Scotia was the only province to not report an occupancy decrease, holding steady at 71.1 percent. Prince Edward Island reported the largest occupancy decrease, falling 19.8 percent to 54.4 percent, followed by Alberta with a 15.1-percent decrease to 61.5 percent.
Saskatchewan was the only province to post an ADR increase for the week, up 7.6 percent to CAD$119.91. Four provinces experienced ADR declines of more than 5 percent: Alberta (-9.0 percent to CAD$130.45); Prince Edward Island (-7.0 percent to CAD$89.55); British Columbia (-6.3 percent to CAD$119.91); and Quebec (-5.7 percent to CAD$139.69).
Saskatchewan posted a 4.9-percent increase in RevPAR to CAD$93.49--the only increase in that metric. Prince Edward Island experienced the largest decline in RevPAR, dropping 25.4 percent to CAD$48.69. Two other provinces reported double-digit RevPAR decreases: Alberta (-22.7 percent to CAD$80.26) and British Columbia (-13.8 percent to CAD$70.34).
---
Sign Up Free | The WPJ Weekly Newsletter
Relevant real estate news.
Actionable market intelligence.
Right to your inbox every week.
---
Real Estate Listings Showcase