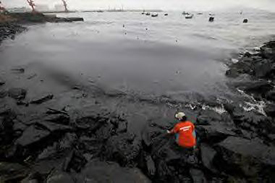 SPECIAL REPORT:
Tourism Hit Hard as China Cleans Up Country's Worst Oil Spill
Using chop sticks and their bare hands, thousands of Chinese volunteers today continue to clean up the beaches at Dalian, once ranked as China's most livable city on the northeast coast.
A pipeline explosion at the Port of Dalian in Liaoning Province July 27 spilled 400,000 gallons of crude toxic oil into the Yellow Sea. Dalian is China's second biggest oil import port.
The cause of the explosion that started the spill has not been identified. The pipeline is owned by China National Petroleum Corp., Asia's biggest oil and gas producer by volume.
State media reports no more oil is leaking into the sea, but the total amount of oil spilled is not yet clear.
Fishing in the waters around Dalian has been banned through the end of August, the state-run Xinhua News Agency reported.
The China oil spill is now 165 square miles in size, but still just a fraction of the size of the April 21 BP oil spill in the Gulf of Mexico. That spill totaled an estimated 184 million gallons of oil over an estimated 2,700 square, according to the Christian Science Monitor.
Forty special 'oil-skimming' vessels and 800 boats are spreading oil-eating bacteria on the spill to help neutralize it, reports the China Daily newspaper.
Tourist beaches near Dalian, including Bangchui Island, a popular holiday resort east of Dalian, are closed to tourists indefinitely, but shipping container operations at Dalian Port is back to normal, according to the Associated Press.
Xinhua reported a firefighter died after a wave swept him away while he was trying to fix a boat's pump under water.
In a statement posted on its website, Greenpeace China's head climate campaigner Yang Ailun, said the accident highlighted the need for serious energy reform and a shift to renewable sources.
"From the Gulf of Mexico to the Gulf of Dalian to the numerous coal mine accidents, it is tragically obvious that economic development built upon fossil fuels is unsustainable and comes at a high price," Yang said.
As of 2006, China depended on oil for 20 percent of its energy needs, the second-largest source after coal, at 70 percent, according to the US Department of Energy.
PetroChina's north-to-south oil shipments from Dalian port - usually 30,000 to 50,000 tons per day - have been affected, said Chu Jiewang, an analyst at the Shanghai-based C1 Energy Co Ltd, a leading oil industry information provider.
The Dalian oil reserve is at the heart of Northeast China's crude oil production base and is one of country's largest oil industry bases, while Dalian is China's second largest port for crude oil imports.
Analysts said the oil reserves in southern provinces are ample and the impact of reduced shipments is so far limited.
Officials, oil company workers and volunteers were turning out by the hundreds to clean blackened beaches.
"We don't have proper oil cleanup materials, so our workers are wearing rubber gloves and using chopsticks," an official with the Jinshitan Golden Beach Administration Committee told the Beijing Youth Daily newspaper.
"This kind of inefficiency means the oil will keep coming to shore. ... This stretch of oil is really difficult to clean up in the short term," the unidentified official stated.
Some locals said the area's economy was already hurting.
"Let's wait and see how well they deal with the oil until Sept. 1, if the oil can't be cleaned up by then, the seafood products will all be ruined," an unnamed fisherman told Dragon TV. "No one will buy them in the market because of the smell of the oil."
---