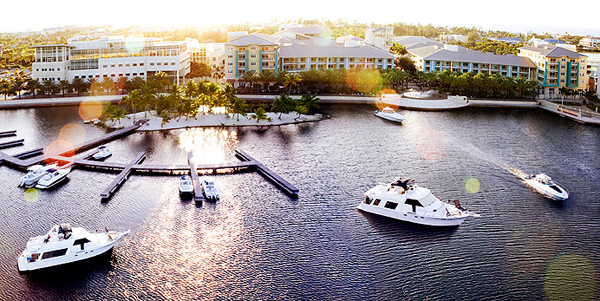 Camana Bay Emerges as New Commerce Center in Cayman Islands
Camana Bay in the Cayman Islands is emerging as a new commerce center for the finance and insurance industries. The newest office building is 94 Solaris Avenue, a $20 million, five-story, 68,000-square-foot, Class A structure with almost full occupancy developed by Dart Realty (Cayman) Ltd.
"The completion of 94 Solaris Avenue is a significant milestone in the development of Camana Bay," said Jackie Doak, Chief Operating Officer for Dart Realty. "Camana Bay's office buildings are a critical component to the thriving mixed-use environment at Camana Bay."
Doak said Camana Bay "continues to build on the momentum Dart Realty has created at the Caribbean's most significant New Urbanism development."
Camana Bay already is one of Grand Cayman's premier destinations with shopping, events, parks, sports facilities and apartments. As a result, Camana Bay's office component continues to grow despite current global economic conditions, Doak said.
Designed by Washington D.C.-based Torti Gallas and Partners with support from local architects, the Burns Conolly Group, the building houses Class A office tenants and offers restaurants and retail on the ground floor.
Anchor tenant Mourant Ozannes, regarded as one of the world's leading offshore law firms, has relocated its offices to the top two floors of 94 Solaris Avenue. The entire second floor is occupied by AON, the largest risk management firm in the Cayman Islands.
"Dart Realty is proud of our team, which completed 94 Solaris Avenue in less than 16 months," said Doak. "94 Solaris Avenue, which already has attracted blue-chip tenants in the legal and insurance industries, sets the standard for Class A office space in the Cayman Islands."
She added: "The total economic impact to the Cayman Islands of Camana Bay is more than $800 million and its construction has generated 1,000 plus jobs."
Doak said that in keeping with the sustainable design of Camana Bay, 94 Solaris Avenue has been built with LEED principles. The building features many environmentally friendly elements such as a collection system that recycles rainwater used to flush toilets.
Other sustainable features include thermal building insulation, high-energy air conditioning systems and strategically placed shading structures that counteract Cayman's strong sunlight.
"Even the landscaping is green--pun intended," Doak said. Indigenous plants are watered using rainwater collected in the Town Center's irrigation cistern.
Constructed by DECCO and its local Caymanian partners, 94 Solaris Avenue is the latest addition to Camana Bay's office component. The Town Center, which also includes 69 Forum Lane, 89 Nexus Way and additional garden offices, has a combined 450,000 square feet of office and retail space.
"We expect demand to continue to increase for the state-of-the-art office space Dart Realty is developing at Camana Bay," said Doak.
"With a new state-of-the-art, sustainably designed office building, two new Class A office tenants and a long-term development plan, the Town of Camana Bay continues to blossom."
A destination within a destination, Camana Bay is a vibrant new town located in the heart of Grand Cayman. Stretching 500 acres from the famous Seven Mile Beach to the tranquil North Sound, this mixed-use master planned community opened in December 2007 and is one of the first examples of New Urbanism in the Caribbean.
Camana Bay is being developed by Dart Realty (Cayman) Ltd. in collaboration with an award-winning team of visionaries, including Duany Plater-Zyberk (Seaside and Rosemary Beach, Fla.), Moore Ruble Yudell and OLIN Partnership,
Doak noted the destination offers "a unique mix of thoughtfully designed residential, commercial and public spaces, world-class shopping and dining, education and sports facilities plus family-friendly entertainment, events and attractions."
Designed to grow organically over several decades, Camana Bay is now in the master planning phase for the town's residential communities. Boasting a bustling 600,000-square-foot business and financial center, Camana Bay is also quickly becoming the preferred destination for local and international businesses alike.
Also recently announced at Camana Bay is the National Roads Authority (NRA) Agreement, signed Dec. 15, 2011 between the Cayman Islands Government, the NRA and Dart Realty (Cayman) Ltd.
The planned endeavor covers a group of projects along the West Bay Corridor, including the redevelopment of the closed Seven Mile Beach hotel. Dart Realty will receive hotel concessions and hotel tax abatements to redevelop the SMB Hotel.
As a component of the NRA Agreement, the Courtyard by Marriott Hotel (previously the Holiday Inn), which closed in 2008, will be redeveloped into a new four- to-five star hotel. Feasibility studies are under way to determine brand affiliation, service amenities and final design attributes and construction on the hotel will start within 12 months.
The redevelopment and reopening of the hotel will stimulate tourism and economic growth by adding significantly to the island's existing hotel room stock and will also create employment and business opportunities.
In a related happening at Camana Bay, international entrepreneur Richard Branson met with 200 students and future business leaders at a waterfront breakfast in support of Virgin Unite, the Virgin Group's not for profit foundation.
Guests included more than 40 students nominated by the administrations of local schools, participants in Junior Achievement of the Cayman Islands, past nominees and recipients of the Young Caymanian Leadership Awards and Ethan Whittaker, a recipient of a Minds Inspired Scholarship in Camana Bay.
"Bizarrely, I've never thought of myself as a businessman, and yet we have quite a few companies around the world," said Sir Richard. "What I love to do is if I see something not being done well is to try and see if we can improve it."
Mirroring the philosophy of the Virgin Group, which covers all the overhead expenses of Virgin Unite, Dart Cayman Islands and Camana Bay, sponsored the event so that the future leaders of the Cayman Islands could discuss their own ideas with Sir Richard in an informal setting.
Virgin Unite is the not-for-profit foundation of the Virgin Group. Its mission is to unite people and entrepreneurial ideas and revolutionize the way businesses; government and the social sector work together, driving business as a force for good.
Virgin Unite also incubates new, independent approaches to leadership including the Elders, the Carbon War Room, and the Branson Centers of Entrepreneurship.