Marriott to Double Hotel Portfolio in Latin America by 2017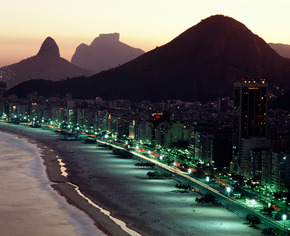 Sensing a growing demand, Marriott International Inc. (NYSE: MAR) plans to double it s hotel portfolio in South America by 2017. Marriott will add 12 hotels to its five existing properties in Brazil and increase its presence in Colombia to seven from two.
Marriott President and Chief Executive Officer Arne Sorenson made the announcement in Cartagena, Colombia. Marriott is the largest publicly trade hotel chain in the U.S.
The expansion will focus on Marriott's Fairfield Inn & Suites brand.
In a news release from Marriott headquarters in Bethesda, MD., Sorenesen said he anticipates his company's planned expansions will increase jobs at Marriott hotels to 27,000 from 13,000 by the end of 2017.
Brazil, particularly, has a hotel room shortage. Rio de Janeiro, Brazil's second- biggest city, will host the 2016 Summer Olympics. Rio de Janeiro also houses the Maracana soccer stadium, where the closing ceremony of the 2014 World Cup will be held.
Sorensen sees a special opportunity for Marriott to grow in Latin America, the Caribbean and Asia. He anticipates a growing middle class in those countries whose near-future incomes will allow them to travel more for pleasure as well as for business. He also sees growth opportunities as well in residential, office and retail properties.
Marriott has 35 hotels signed and under development in the Caribbean and Latin America. These include The Ritz-Carlton, Aruba, The Ritz-Carlton, Panama City (Panama), JW Marriott Cusco (Peru), Port-au-Prince Marriott Hotel (Haiti) and the Renaissance Santiago (Chile).
By 2017, Marriott envisions its portfolio in the region rising to over 140 hotels and 30,000 rooms either opened or in the development pipeline.
Marriott International currently is represented with 69 hotels in 25 countries in the Caribbean and Latin America. Nine of Marriott's 18 brands are currently represented in the region.
They are The Ritz-Carlton and JW Marriott (luxury); Marriott Hotels & Resorts (upscale); Renaissance Hotels and Autograph Collection (lifestyle); Courtyard by Marriott (upper moderate); Marriott Executive Apartments and Residence Inn by Marriott (extended stay); and Fairfield by Marriott (moderate).
Brazil has been slow in developing new hotel properties because lenders have held back on hospitality financing until recently. Commercial developers also have side-stepped the hotel arena and used available land instead to develop other real estate categories.
This year's hotel openings in the region showcase Marriott's broad portfolio of top brands, including the first Ritz-Carlton Reserve in the Americas at Dorado Beach, Puerto Rico to the JW Marriott in Cusco, Peru and the Courtyard by Marriott at Mexico City Airport.
Marriott competitor Starwood Hotels & Resorts Worldwide Inc. (NYSE: HOT), owner of the luxury St. Regis and W brands, previously announced it plans to combine its operations in North America and Latin America, so that it can better streamline its global operations.