---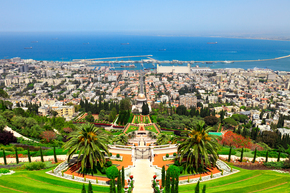 Better than expected economic growth is fueling a rise in house prices and stronger property demand in Israel these days. Despite daily fears of violence and security threats from area militia groups, the real estate markets in the 8,500-square-mile Middle East country are prospering, according to various media and analyst reports.
Still, there is a shortage of affordable housing while rents in established neighborhoods are rising.
Thriving real estate markets are seen in the Northern district, Qrayot Haifa and Jerusalem. Global Property Guide, published in Bristol, England, notes third-quarter growth in the Northern district was 4.8%; Qrayot Haifa, 2.5%; and Jerusalem, 2.7%.
Israelis are spending more on consumer goods at the same time as the country's export business is growing. Those two factors are considered crucial to the real estate market health in the small country. With an estimated population of only eight million, Israel, in land size, is just a little smaller than New Jersey's 8,700-square-miles.
According to Israel's Central Bureau of Statistics (CBS), the average price of owner-occupied residences rose by 2.56% to ILS 1,132,000 (US $299,086), after a year-on-year rise of just 1.11% in the second quarter, and a decline of 1.56% in the first quarter of this year. One Israeli New Shekel (ILS) equals 27 cents U.S.
Israel's economy expanded 2.9% year on year in the third quarter. The Bank of Israel has revised its 2012 growth projections to 3.3% from 3.1%. The CBS forecasts gross domestic product (GDP) growth for all of 2012 of 3.5%.
Qrayot Haifa saw the highest house price increase during the year with prices rising by 22.7%. It was followed by the Northern district (15.4%) and Haifa (6.4%).
Other Israeli districts which saw moderate year-on-year house price increases include Tel Aviv (3.7%), the Central district (2.9%) and Gush Dan (2.8%). Prices in Jerusalem and Sharon rose just 0.7% and 0.1%, respectively.
Tel Aviv has the country's most expensive housing, with an average third-quarter price of owner-occupied dwellings of ILS1,953,200 (US $516,056). Next highest markets were Jerusalem at ILS1,557,600 (US $411,534) and Sharon at ILS1,443,800 (US $381,467).
Tel Aviv's housing market suffers the most whenever the country is forced to fight off security threats. For example, with the Israel-Hezbollah war, which erupted in July 2006, house prices fell 12.6% from the first quarter to the fourth quarter of 2006.
In contrast, the Southern district, not as involved as the northern sector in the conflict, registered an 8.9% price increase over the same period.
Property prices in other districts have partially recovered since the fight with Hezbollah ceased at the end of 2006. For example, Tel Aviv recorded the highest house price rise of 22.37% year on year in 2007. The national average price also rose by 4.9% over the same period.
Mortgage interest rates have dropped since 2003. In June 2010, the average mortgage rate was 2.31%, down from 6.7% in January 2003.
The Bank of Israel reduced the key interest rate to a record low of 0.5% in April 2009. The central bank cut the key rate by a total of 375 basis points from October 2008 to April 2009.
Sign Up Free | The WPJ Weekly Newsletter
Relevant real estate news.
Actionable market intelligence.
Right to your inbox every week.
---
Real Estate Listings Showcase