---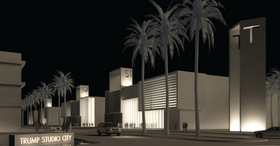 An 800-acre, billion-dollar film production studio could become a reality in South Florida in the next five years if New York entrepreneur Donald Trump's dream materializes.
Trump's vision of a Universal Studios South undertaking is being reviewed by the Miami-Dade Commission. It will take at least six months before a formal initial vote on the project goes before the commission.
The project is tentatively called Trump Studio City and would be twice the size of Universal Studios in Los Angeles, according to various media reports. Speculated studio sizes would be 25,000 square feet to 250,000 square feet.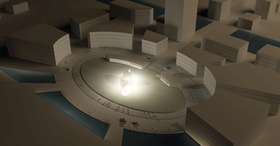 Trump Studio City - Event Plaza and Entertainment/Retail Arcade
In a previously unannounced and unscheduled move, Commissioner Joe Martinez presented Trump's plans at a regular public commission meeting June 5, 2012. Martinez is running against Mayor Carlos Gimenez in the August election.
Gimenez said he couldn't comment on the plan because it was not on the regular meeting agenda. This was the first he had heard of it, he said.
Still, the commission voted unanimously for Miami-Dade to begin a feasibility study on the project. Of primary concern to the commission is how much of the land in question near the Homestead Air Reserve Base is contaminated and not fit to build on.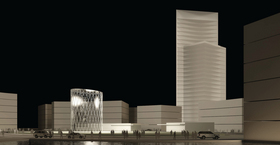 Trump Studio City - Event Plaza and Entertainment/Retail Arcade
Homestead Base officials told
The Miami Herald
they were unaware of Trump's proposal. Smaller studios recently built in Miami have not had sustained success.
For Martinez, Trump's plan is his second pitch to fellow commissioners for a similar project. He pitched the idea of a Homestead film studio for the first time in 2001.
He told
CBS 4 News
in Miami, "Back then, I thought it was such a great idea that I thought I would just propose it to my colleagues and it would pass and people would flock here. I've learned. I've matured. And I knew I had to get someone with a name."
So he got Trump.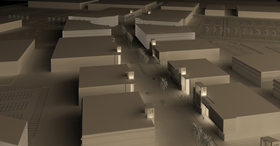 Trump didn't attend the commission meeting, but Michael Cohen, Executive Vice President and Special Counsel with the Trump Organization did.
"You got to dream. Las Vegas came out of the desert. People didn't think it could be done (either)" Martinez told the network.
Martinez said Trump Studio City was envisioned shortly after Trump announced his purchase of the Doral Golf Resort & Spa earlier this year.
The Miami Herald reports some of the land under consideration for the Trump project was involved in a years-long legal battle by the Homestead Air Base Developers Inc. group, known as HABDI. HABDI had planned to build a controversial commercial airport at the former Homestead Air Force Base.
The Herald reports the airport deal collapsed in 2001, after the U.S. Air Force decided it would not convey 604 acres to the county for an airport. The Air Force later gave the land to Miami-Dade for general non-aviation development.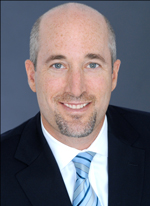 Steve Medwin, Jones Lang LaSalle Miami
Steven J. Medwin, Managing Director of Jones Lang LaSalle's Miami office tells
World Property Channel
, "A development of this size and scale would provide a much-needed shot in the arm to the Homestead-South Dade economy. To date, this area's real estate market has not experienced the improvement we have seen in most other parts of Miami-Dade County during the past 12-18 months. If approved, I would expect this project to lead to more residential, retail and even industrial development in the surrounding area."
"It's great to see that Florida's major success in the film, television and digital media industries over recent years is attracting players such as Donald Trump with projects of this magnitude," said Jud French, Jr, Executive Director of Digital Media Alliance Florida and executive board member of Film Florida.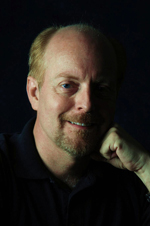 Jud French, DMAF & Film Florida
French continued, "While details are few at this stage, successful implementation of Trump Studio City would significantly expand the rapid growth that our entertainment industries have experienced and help cement our state's return to the top tier of media content production nationally. This would also mean good things for Florida's entertainment incentive program, because no one would pursue this sort of agenda without indications that the State's various incentive programs will be consistent and robust...something our industries strongly support."
"Our most recent figures show that just the transferable tax credit production incentives have resulted in $1.2 billion in spending by production projects within Florida, $745 million in wages and 161 thousand jobs, as well as over 225 thousand room nights spent in Florida hotels statewide" concluded French.
Sign Up Free | The WPJ Weekly Newsletter
Relevant real estate news.
Actionable market intelligence.
Right to your inbox every week.
---
Real Estate Listings Showcase