---
In the headlines almost daily since his Jan. 20, 2017 inauguration, President Donald Trump today again is in a controversial limelight he abhors. His corporate trust, directed and controlled by family members, is selling Trump's luxury waterfront villa on Plum Bay on the island of French St. Martin in the Caribbean.
The trust is reputed to own the home through two shell companies, Excel Venture 1 LLC and Excel Venture Corp 11.
The sale of the Caribbean resort would be the first release of a major asset owned by the trust since Trump took office.
The announcement first appeared as a formal listing in Sotheby's International Realty on May 14. Since then, the global media has been tripping over themselves, trying to learn a listing price for the five-acre, five-foot-high walled compound.
Sotheby's states it will only disclose the listing price to a serious and qualified buyer. The White House, as expected, had no comment, either on the listing or asking price, or even with the
Sotheby's listing
on its international portfolio calendar.
The site includes a five-bedroom ocean-side location, a four-bedroom garden side villa, a main house and a guest house. All told, the compound offers 11 bedrooms with full baths to each bedroom.
Unlike his 15 other worldwide golf club properties, the property, known as Le Chateau des Palmiers, does not have an attached celebrated international golf course.
Trump purchased the property in 2013
, as The World Property Journal previously reported. It was listed then at 19.7 million. What Trump actually paid for the home has not been disclosed, either with his May 2017 formal financial disclosures to the U.S. Congress or on any other occasion. Trump has refused to release a copy of his 2016 federal tax return.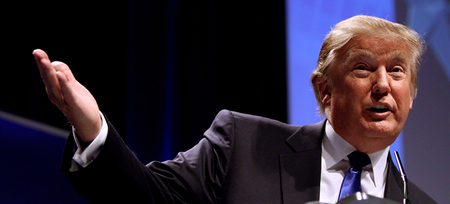 However, his May financials to the Congress noted the compound could sleep a total of 20 persons and could be rented for up to $6,000 per night. Trump's financials also showed the annual rentals earned between $100,000 and $1 million. The financials estimated the market value of the entire compound between $25 million and $50 million.
This specific pending property sale has caught the attention of Trump's critics because of two scenarios.
The first notes that this sale will be the first known major divestiture of a Trump property since he became president.
The second reason the listing is gaining attention involves Trump's recent Executive Order that renewed a way for foreigners who invest in U.S. real estate projects to obtain visas.
This is a legal loophole Democratic Party Trump Watchers failed to fully assess early on. Now that loophole is wide open for other entrepreneurs to seize and follow up on.
For example, Jared Kushner's sister, Nicole Meyer, was reported by The New York Times to have pitched the visa loophole angle only last week in Shanghai and Beijing. Miss Meyer was trying to find investors to fund a Kushner Co. real estate project in New Jersey.
Kushner executives apologized for any apparent attempt by Meyer to lure investors by using her brother's name as a magnet. Jared Kushner heads Kushner Co. and is the husband of Ivanka Trump, the president's eldest daughter and a daily consultant to her father. Privately, she also sells an Ivanka-branded jewelry line worldwide and is promoting her first book on social media.
Trump's corporate trust has attracted critics from its first day of existence. The trust is overseen by the President's two sons, Donald Jr. and Eric, and their sister Ivanka. Trump has told his supporters he won't meddle in the trust's activities or even ask about its progress from time to time, but he didn't emphasize to this backers that he can seize back control of the trust at any time. And he can do it legally.
And now comes probably the most puzzling part of the pending Caribbean sale itself. And that is: Would a buyer purchase the property specifically to get close to the President and possibly poison his views on worldwide and domestic issues?
Some Trump Watchers say that is not a simplistic analysis of the situation - especially since many of the world's wealthiest investors are Asian, European, Middle Eastern or African business tycoons.
Trump Watchers can only recall a few recent instances involving Presidents becoming involved in selling or purchasing real estate.
Before winning the White House in 1968, Richard Millhouse Nixon had lived in a 12-room apartment at 810 Fifth Avenue, New York City, where Nelson A. Rockefeller was a neighbor. Nixon sold the apartment for a reported $326,000 shortly after he took office.
Most Presidents, until Trump came along, were eager to unload owned real estate that might embarrass them at some point later in their presidency. For example, in the 1970s, President Jimmy Carter worried so much about impropriety that he sold off his beloved family peanut farm in Plains, GA.
Trump owns no peanut farm that reporters know of. But he does own pieces of 15 golf club properties around the world. Places he has visited on 14 of the 16 weekends he has been president.
On French St. Martin, however, there is no golf club and now there will be no weekend home to drift by, either. For Trump, it is merely another chapter in an ongoing saga that appears to have no predictable ending.
Sign Up Free | The WPJ Weekly Newsletter
Relevant real estate news.
Actionable market intelligence.
Right to your inbox every week.
---
Real Estate Listings Showcase