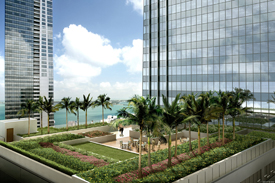 Developer Alan Ojeda Takes Calculated Risk With $140M Downtown Miami Office Tower
(MIAMI, FL) -- Developer Alan Ojeda is topping off his $140 million, 586,000-square-foot, 35-story 1450 Brickell office tower tomorrow (Jan. 30), even as Class A vacancy rates in metro Miami are forecast to hover in the 15% range in 2009.
The 35-story, 540-foot tall glass-clad structure is scheduled for delivery in January 2010. Industry analysts tell Real Estate Channel they doubt the market will have recovered by that date.
But that doesn't apparently faze the CEO of Miami-based Rilea Group, a real estate developer in South Florida since 1981.
"The tower's construction and location will set it apart from other projects under way in downtown Miami," Ojeda says.
"We conceived and designed 1450 Brickell with two words in mind: 'quality' and 'convenience'. Now that we're one year out from completion, I can say with certainty that the Tower's quality of construction will be matched only by its convenient location and accessibility.
"The building's surroundings offer tenants a mixed-use setting unique in the Miami marketplace.
"The Brickell Gateway neighborhood is home to more than 30,000 square-feet of retail space and nearly 30 retail businesses within walking distance of 1450 Brickell's front door, making location one of its many advantages."
That may come to pass, but a recent Grubb & Ellis Co. analysis of metro Miami's office market takes a different view.
"Office vacancy across much of the South Florida region, including Miami-Dade County, is expected to rise at a brisk pace in early 2009, as tenants continue to downsize and demand less space on average," according to the report.
"Although new office construction deliveries will be limited in early 2009, a significant portion will likely be unoccupied, adding to the market's overall vacancy."
Additionally, Grubb & Ellis reports, "The number of property owners facing financial challenges will likely increase in 2009, as a result of rising vacancies.
"The credit markets will need to become more open to property debt restructuring in order to prevent declining pro formas from translating into pools of bad debt for the creditors."
Following its completion, 1450 Brickell will become Miami's first LEED Gold-certified office tower. The building earned LEED Gold pre-certification in 2008.
1450 Brickell is adjacent to One Broadway, a luxury apartment building developed by Rilea Group in 2006. The building houses 371 rental units and ground floor retail.
---